politics
Two Hostages Killed in Counterterrorism Strike, Obama Says
Toluse Olorunnipa and Tony Capaccio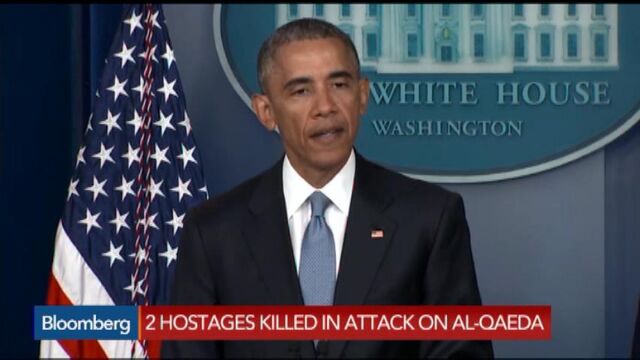 An American and an Italian being held hostage were accidentally killed in a U.S. drone strike on an al-Qaeda compound in Pakistan earlier this year, and President Barack Obama said he takes full responsibility for the deaths.
Warren Weinstein, an American held by al-Qaeda since he was captured in Pakistan in 2011, and Giovanni Lo Porto, an Italian national who had been held by the group since 2012, were identified as the two hostages who died in the operation on the border with Afghanistan in January.
"As president and as commander-in-chief I take full responsibility for all our counterterrorism operations, including the ones that inadvertently took the lives of Warren and Giovanni" Obama said Thursday at the White House. "I profoundly regret what happened."
The president said he has directed a review of what happened. He said the operation was legal and consistent with guidelines for such strikes, but the U.S. had no indication that the hostages were being held in the same al-Qaeda compound that was targeted.
"In the fog of war generally, and our fight against terrorists specifically, mistakes, sometimes deadly mistakes, can occur," he said. "We will do our utmost to ensure that it is not repeated."
CIA Briefing
While Obama didn't say what U.S. agency was involved or how the operation was carried out, Senator Ben Cardin of Maryland, the top Democrat on the Foreign Relations Committee, said he received a preliminary briefing on it from the director of the Central Intelligence Agency.
The CIA directs covert drone strikes over Pakistan, while the Defense Department leads the war effort in neighboring Afghanistan. A U.S. official, who asked for anonymity to discuss intelligence matters, said the deaths were the result of a strike by remotely piloted drones.
The two men were doing relief work in Pakistan when they were taken by the terrorist group.
"There could be no starker contrast between these two selfless men and their al-Qaeda captors," Obama said. The president said he had spoken to the family of Weinstein and to Italian Prime Minister Matteo Renzi about the deaths, which were confirmed only days ago.
Renzi's office said in a statement that Italy offered its condolences to Weinstein's family.
Blaming Captors
In a statement, Weinstein's family said they "look forward to the results" of the U.S. investigation, but put the blame on his captors and the government of Pakistan.
"Those who took Warren captive over three years ago bear ultimate responsibility," Weinstein's wife, Elaine, said in the statement that also criticized some in the U.S. government for an "inconsistent and disappointing" response to Weinstein's captivity.
Two other Americans linked to al-Qaeda were killed during counterterrorism operations, according to the White House.
Ahmed Farouq, an American who was an al-Qaeda leader, was killed in the same operation in which the hostages died, the White House said in a statement. Another American, Adam Gadahn, was killed in a separate assault, also in January.
Al-Qaeda Spokesman
Gadahn, a convert to Islam who was born Adam Pearlman and grew up in California, fled to Pakistan in the late 1990s. He announced he had joined al-Qaeda in a 2004 video, saying "the streets of America shall run red with blood."
He served as a spokesman for al-Qaeda and in 2006 became the first American to be charged with treason since the World War II era.
Farouq and Gadahn weren't classified as high value targets, one of the criteria for a lethal action against a U.S. citizen overseas, White House spokesman Josh Earnest said. In both cases, the Americans weren't specifically targeted and intelligence assessments didn't indicate their presence, he said.
Obama didn't personally sign off on the two operations, Earnest said, adding that the U.S. would compensate the families of Weinstein and Lo Porto.
Lawmakers backed an investigation into the deaths, though generally didn't immediately offer solutions or call for curtailing the drone strike program. Earnest said relevant lawmakers are briefed before counterterrorism operations.
Congressional Oversight
House Speaker John Boehner told reporters at a morning news conference that he thinks the independent review announced by the president is "entirely appropriate" and said House panels would probably look into the killings as well. Nancy Pelosi, the House Democratic leader, said she didn't have full information yet, though she said the hostages' deaths were a situation that should "never happen."
John Delaney, a Maryland Democrat who's Weinstein's representative in the U.S. House, called it a "personal tragedy for Warren's family but also a sobering national security and government failure."
"As Warren's representative, I feel like his country failed him in his greatest time of need," Delaney said. He called for an investigation into the deaths, including intelligence used to find the hostages and said he was working on a bill that would upgrade and reform the U.S. response to hostage situations.
Intelligence Shortfall
The deaths of the hostages underscores the dearth of accurate real-time intelligence on al-Qaeda and other terrorist groups, said a former U.S. intelligence officer in Pakistan.
Speaking on the condition of anonymity, the officer said the U.S. has become increasingly dependent on technological rather than human intelligence sources. The officer said that advanced satellite and drone reconnaissance and communications intercepts have limited utility without on-the-ground reports from covert operatives and agents recruited in areas where terrorists operate and seek shelter.
Earnest said intelligence officials approved the operations after conducting hundreds of hours of surveillance and achieving "near certainty" that no civilians would be injured.
"Our analysts consider multiple sources of intelligence before reaching that near-certain determination," Earnest said, declining to go into further detail. He said the deaths of Weinstein and Lo Porto make clear that "even narrowly tailored actions do not completely eliminate the risk of innocent loss of life."
The hostage deaths also serve as the latest illustration of the dangers that intelligence shortcomings pose for Americans held overseas.
Luke Somers, an American journalist, was killed by his captors in Yemen during a rescue attempt by U.S. forces in December. A South African hostage was also killed in the raid.
Last year, U.S. attempts to rescue hostages held by Islamic State militants in Syria -- including aid worker Kayla Mueller-- were unsuccessful. Mueller's death was confirmed earlier this year.
(Updates with White House spokesman, beginning in 16th paragraph.)
Before it's here, it's on the Bloomberg Terminal.
LEARN MORE