politics
Sheldon Adelson's Bad Bets
A nod from the mega-donor doesn't often translate to victory at the polls.
By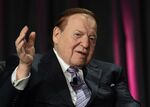 As Ted Cruz, Rick Perry and Jeb Bush's big brother, former President George W. Bush, head to Las Vegas this weekend for the latest episode in GOP presidential hopefuls' long-running courtship of Sheldon Adelson, it's worth remembering that the Republican mega-donor has proven no better at picking winners than guests at his many casinos.
Exactly half of the 36 candidates the 81-year-old Adelson and his wife, Miriam, supported during 2012 and 2014—either through direct contributions or donations to super-PACs dedicated to individual candidates—lost their races, data from the Federal Election Commission show. Those bad bets accounted for a stunning 99 percent of the $60.1 million the couple spent this way. 
On top of that, the Adelsons poured money into some of 2012's least-successful multi-candidate super-PACs. They directed $23 million to American Crossroads, which was working to defeat President Barack Obama and elect more Republicans to the Senate. Just 1.29 percent of that group's money helped winners, according to the Sunlight Foundation, giving it the second-worst return on investment of any political group that year.
The Sands Corporation chief executive's attempts at shaping policy that could affect his bottom line so far have similarly fallen flat. He has called online gaming, a "toxin" that must be stopped, but federal legislation putting the brakes on it has gone nowhere. Online gambling is now legal in three states with many more considering giving it the nod.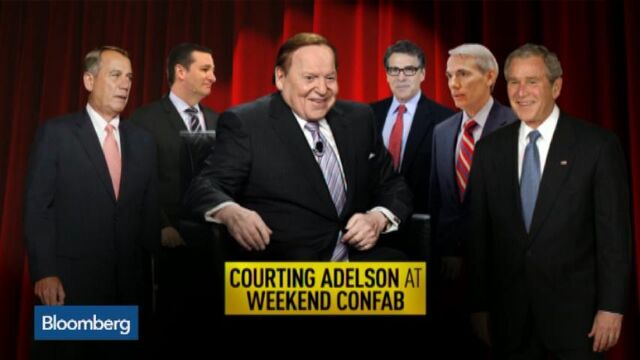 Yet, important politicians keep calling—no doubt because Adelson's net worth is more than $28 billion, putting him at No. 25 on Bloomberg's list of the world's wealthiest individuals.  In the last presidential election, Adelson was by far the biggest individual donor. 
This weekend, he'll be hosting the annual Las Vegas gathering of the Republican Jewish Coalition, of which Adelson is a key funder. Almost 700 people who gave at least $1,000 to the group this year will attend. 
Cruz, Perry, Indiana Governor Mike Pence and Ohio Senator Rob Portman will address the group on Saturday in a session that reporters can attend. Former President George W. Bush, House Speaker John Boehner, 2012 Republican presidential nominee Mitt Romney and Republican National Committee Chairman Reince Priebus will speak in sessions off-limits to the press. Last year, Jeb Bush, Kentucky Senator Rand Paul and Wisconsin Governor Scott Walker were among the RJC's guest speakers. A year earlier, Florida Senator Marco Rubio made the trip.
It's not an accident that the RJC has become a bit of a candidate audition for Adelson and his checkbook.
In 2012, Adelson's long friendship with Newt Gingrich prompted his family to invest in the race early, pumping $21.5 million 1  into the former House speaker's failed quest for the Republican presidential nomination. This time around, Adelson is unlikely to throw his support behind a White House contender until next year, his political adviser Andy Abboud told Bloomberg. 
"His strategy is different this time. He is taking a wait-and-see approach," said Matt Brooks, director of the Republican Jewish Coalition and Adelson's friend. "Above all else, the driving force is who is in the best position to win in 2016. Sheldon, like so many, wants to find a candidate who can win the White House."
And perhaps he's chastened, not just by Gingrich, but by his many other bad bets. Here's a recap of the other biggest drains on Adelson's political portfolio:
Mitt Romney
Once Mitt Romney locked up the Republican nomination, the Adelsons gave super-PACs supportive of him a major infusion of cash. By Election Day, they'd spent $51 million exclusively on presidential aspirants and the super-PACs devoted to them.

George Allen
Virginia Republican George Allen got a $4 million boost from the Adelsons through the super-PAC Independence Virginia. It didn't work. Democrat Tim Kaine won the seat by a 6 percentage-point margin.
Allen West
Adelson spent almost as much—$3 million 2 —on Florida Representative Allen West's re-election race. He routed support through two super-PACs, the Treasure Coast Jobs Coalition and Freedom PAC. Allen narrowly lost his seat to Democrat Patrick Murphy.
Scott Brown
The Adelsons have been there for Scott Brown in two states. They put $500,000 into America 360 Committee, a super-PAC that tried to help Brown retain his Massachusetts Senate seat (which he lost to Elizabeth Warren). Two years later, the couple gave Brown's campaign committee the maximum legal contribution of $10,400 as he tried and failed to win a New Hampshire Senate seat. They refrained from lending him support through a super-PAC, which would have allowed them to make a much larger investment.

Shmuley Boteach 
When Rabbi Shmuley Boteach, an author and reality TV personality, ran for a New Jersey congressional seat in 2012, his friends the Adelsons were his biggest boosters. They put more than $1 million into the super-PAC Patriot Prosperity, which was backing Boteach. "I treasure the Adelsons' support," the candidate told the Wall Street Journal after their first round of contributions to the group. "They are among the most generous and sophisticated political donors in the country."
He added that he thought the Adelson money would prove to be "a game-changer." It wasn't. Boteach was pummeled on Election Day, losing by a margin of 25.4 to 73.6 percent.
Before it's here, it's on the Bloomberg Terminal.
LEARN MORE