RWE Says Germany's Coal-Power Policy Threatens Its Existence
Tino Andresen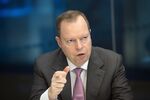 RWE AG, Germany's largest power company by output, said government plans to force aging coal-fed plants to pay more for emissions threaten its future as a going concern.
"The so-called climate contribution for conventional power stations affects our very existence," Chief Executive Officer Peter Terium said Thursday at RWE's annual general meeting in Essen. "This contribution would mean immediate closure for the majority of our lignite mines and lignite-fired power stations."
Energy Minister Sigmar Gabriel has proposed forcing coal-power plants that are 20 years old or more to buy extra European Union emission permits starting in 2017. The country is making an unprecedented shift to renewable energy to meet climate targets, driving down wholesale electricity prices and eroding the profitability of traditional utilities that run coal, gas and nuclear plants.
RWE fell 1 percent to 23.645 euros by the Frankfurt close.
RWE's operating earnings from conventional power generation tumbled by almost a third last year. The utility, which achieved cost savings of 1.4 billion euros ($1.5 billion) in the three years to 2014, has a cumulative savings target of 2 billion euros by 2017 as it seeks to shore up funds.
Domestic competitor EON SE, which reported a 24 percent slump in underlying net income last year, has announced it will spin off fossil-fuel power plants to focus on renewables.
Evolution, Revolution
"RWE strategically has reached a deadlock and there's hardly anything else it can do than to push cost-cutting and efficiency measures and to hope for a recovery of electricity wholesale prices," said Ingo Speich, a fund manager at Union Investment, one of RWE's top 15 holders. "RWE goes for evolution, competitor EON for revolution."
EON's plan to spin off conventional power stations, as well as global trading and exploration and production, is the most radical response yet to Germany's unprecedented switch to wind and solar energy. While RWE hasn't ruled out such a strategy, it doesn't currently see the need to follow suit, Terium said.
Securing RWE's future viability is more important than receiving a dividend, according to Speich, who said Union Investment will vote against the company's proposed 1-euro payout. Municipal shareholders must look beyond short-term interests, he said, adding that RWE should also sell its 17 percent stake in nuclear reprocessor Urenco Ltd.
Earnings Outlook
RWE sees "considerable interest" from potential Urenco investors, Terium told shareholders on Thursday. A market test for disposal of the Berkshire, England-based company, in which RWE holds a one-sixth stake, went well, he said, declining to comment on the timing of a possible sale.
RWE's recurrent net income, the measure used to calculate dividends, dropped 45 percent in 2014 to 1.28 billion euros, the utility said last month. Profit by that measure will be 1.1 billion euros to 1.3 billion euros this year, Terium reiterated on Thursday. Last month the CEO's contract was extended until 2021 to ensure "long-term continuity and reliability."
As RWE contends with sliding prices and surging debt, it's considering a stake sale to investors from Abu Dhabi, people with knowledge of the matter said last month. The utility has been in talks on such a sale since last year and there's no certainty an agreement will be reached, they said.
RWE confirmed on March 18 it was contacted by an investor from the Middle East a few months ago; it reiterated on Thursday it's considering various types of cooperation, and said it's keen to expand in the Arabian Peninsula and in North Africa. An RWE venture is advising the government of Dubai on energy strategy, the company said.
While RWE "is not at risk of becoming insolvent in the short term," it doesn't rule out a capital increase, Terium told shareholders.
Management only needs approval from the supervisory board to increase capital by as much as 20 percent, after holders voted at last year's AGM to allow any such deal through April 2019. In that event, management would seek "consensual agreement" from the board, Terium said.
Before it's here, it's on the Bloomberg Terminal.
LEARN MORE