Republican Governors May Pay Price for Refusing to Expand Medicaid Under Obamacare
The White House seems to see an opportunity to exact a political price from Rick Scott, Greg Abbott, and other Republicans who continue to resist.
By and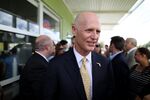 In 2012, the Supreme Court ruled that the federal government couldn't force states to expand eligibility for their Medicaid programs under the Affordable Care Act. Since then, the Obama administration has looked for ways to persuade Republicans who have steadfastly opposed Obamacare to participate in this key component of the act. The biggest incentive is the law's promise of federal funds to cover the whole cost of newly qualified Medicaid patients for three years, until 2016, and at least 90 percent of the costs thereafter. Nevertheless, 20 states have refused to ease access to their Medicaid rolls. A few have been able to eat their cake and have it, too: Because of special arrangements that predate Obamacare, four states that haven't expanded Medicaid have been getting billions each year in extra funding to pay for the care of people who are uninsured.
That's about to change. On April 14, the Centers for Medicare and Medicaid Services (CMS), which manages federal funding to the states for health programs, alerted Florida officials that CMS plans to let the $1.3 billion the state gets annually to help hospitals cover the cost of treating uninsured patients lapse at the end of June. "Uncompensated care pool funding should not pay for costs that would be covered in a Medicaid expansion," CMS wrote in its letter, which it released to reporters.
Rick Scott, Florida's Republican governor, responded two days later with a threat to sue the Obama administration. "It is appalling that President Obama would cut off federal health-care dollars to Florida in an effort to force our state further into Obamacare," Scott said in a public statement. On Fox News, Scott was more animated: "This is The Sopranos. They're using bullying tactics to attack our state." Scott's office declined to comment further.
Texas Governor Greg Abbott quickly joined forces with Scott. Texas' special Medicaid funding, which accounts for about half of the state's $3.4 billion pool to repay hospitals for treating uninsured patients, expires in September 2016. In an April 20 statement, Abbott, a former attorney general who took office in January, vowed to support Florida's suit. (As of April 22, no lawsuit had been filed.) "The Supreme Court made it very clear that the Constitution does not allow the federal government to use these coercive tactics against the States," Abbott said.
Florida and Texas are among nine states with high numbers of uninsured residents that struck deals with CMS for extra federal money to help hospitals, which are legally bound to provide care whether or not patients can pay. The arrangements, known as uncompensated care pools, are subject to periodic renewal and were also granted to Arizona, California, Hawaii, Kansas, Massachusetts, New Mexico, and Tennessee. Of those, only Kansas and Tennessee have joined Florida and Texas in continuing to resist Medicaid expansion.
Florida is the first to come up for review since the Affordable Care Act went into force. Scott, a Tea Party conservative, opposed expanding Medicaid when he took office in 2011, then reversed himself in 2013, saying in a news conference that with Washington picking up the tab, "I cannot, in good conscience, deny Floridians the needed access to health care." With his state legislature dominated by conservative Republicans, he wavered.

After learning CMS wasn't going to renew Florida's funds for uncompensated care unless the state increases access to Medicaid, the governor reversed course again, saying the threat proved the Obama administration couldn't be trusted to fulfill its promise to cover most of the cost of a Medicaid expansion, either. "Why would we put state taxpayers on the hook for something when we can't trust the federal government to fulfill a program they already started?" he said to reporters.
As Obama looks to cement his health-care accomplishments before the 2016 election, the White House seems to see an opportunity to exact a political price from Scott, Abbott, and other Republicans who continue to resist expanding Medicaid under the Affordable Care Act. "It's difficult to explain why somebody would think that their political situation and their political interest is somehow more important than the livelihood and health of 800,000 people that they were elected to lead," White House Press Secretary Josh Earnest said during an April 17 press briefing.
Texas and Florida together have 1.6 million people who could qualify for Medicaid under the wider eligibility criteria, according to estimates from the Kaiser Family Foundation. That's more than 40 percent of the people who would benefit from Medicaid expansion in the 20 states that have opted out. "What's going on here in Florida is probably just the first indication of where CMS is going with all of this for all states that have uncompensated care pools," says Bruce Rueben, president of the Florida Hospital Association, which backs Medicaid expansion.
In Tennessee, conservative lawmakers who control the legislature killed Republican Governor Bill Haslam's request to expand Medicaid earlier this year. Kansas Republican Governor Sam Brownback, who has long opposed Obamacare, recently signaled that he might be willing to change his position in the face of a $400 million budget gap. CMS won't say whether states that decide to expand Medicaid will get to keep their low-income pools. "Discussions with each state will also take into account state-specific circumstances," says CMS spokesman Aaron Albright.
States resisting Obamacare's Medicaid expansion shouldn't expect the federal government to extend special funds that are "above and beyond the normal workings of Medicaid," says Cindy Mann, a former top Medicaid official in the Obama administration who's now a partner at law firm Manatt, Phelps & Phillips. "These were all started before the Affordable Care Act, and it's not surprising CMS is looking to focus its funding on these pools for care that wouldn't be otherwise covered by Medicaid."
Some governors have found conservative-friendly compromises to take federal Medicaid money and use it to expand private coverage. That approach gave Indiana Governor Mike Pence, a Republican, and former Arkansas Governor Mike Beebe, a Democrat, political cover in states where "Obamacare" is a dirty word. Florida's Senate backs such a proposal. If Scott can't find a political compromise to get there, he may be the first Republican governor to learn just how costly disagreeing with the Obama administration over health care can be.
The bottom line: Florida Republican Rick Scott is picking a fight with the White House on Medicaid, even though he risks a budget hit.