Republican Governors May Pay Price for Refusing to Expand Medicaid Under Obamacare
The White House seems to see an opportunity to exact a political price from Rick Scott, Greg Abbott, and other Republicans who continue to resist.
By and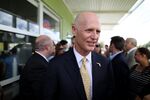 In 2012, the Supreme Court ruled that the federal government couldn't force states to expand eligibility for their Medicaid programs under the Affordable Care Act. Since then, the Obama administration has looked for ways to persuade Republicans who have steadfastly opposed Obamacare to participate in this key component of the act. The biggest incentive is the law's promise of federal funds to cover the whole cost of newly qualified Medicaid patients for three years, until 2016, and at least 90 percent of the costs thereafter. Nevertheless, 20 states have refused to ease access to their Medicaid rolls. A few have been able to eat their cake and have it, too: Because of special arrangements that predate Obamacare, four states that haven't expanded Medicaid have been getting billions each year in extra funding to pay for the care of people who are uninsured.