Hong Kong Asks Lawmakers to Agree to China's Election Plan
Fion Li and Natasha Khan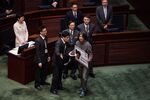 Hong Kong lawmakers should agree to China's terms for the city's first leadership election, or risk delaying giving citizens the right to vote, Chief Executive Leung Chun-ying said.
Candidates for the 2017 election must be screened by a committee, and there would be a maximum of three people who can stand, the Hong Kong government said Wednesday in its final electoral reform proposal. As many as 10 people could be put forth for the committee to consider, it said, in its only concession to pro-democracy lawmakers.
A vote on the proposal would cap Hong Kong's most turbulent year since its return to Chinese rule in 1997, with police last October clashing with tens of thousands of protesters who wanted China to give up its demand to vet candidates. Leung would need to win over four pro-democracy lawmakers to pass the bill, set to be voted on before the end of July.
"If unfortunately the proposal this time is voted down by minority lawmakers, it's uncertain when the next time will be and how it will be done," Leung told reporters. China has "made it clear that there's no compromise on their baseline."
Should lawmakers fail to agree to the plan, Leung's successor would be picked by a committee of tycoons, lawmakers and industry representatives, as it has been since the last British governor left.
Candidates must first get support from at least 120 people on the election committee, which would be formed at the end of next year, Carrie Lam, Hong Kong's No. 2 official, said Wednesday. In the second round of nomination, only those who managed to get support from more than half of the committee would be able to stand in the election, she said.
Yellow Umbrellas
Pro-democracy lawmakers walked out after Lam's speech, with some carrying yellow umbrellas, the symbol of the October protests. Most of the 27 legislators have pledged to veto the proposal.
"The government has ignored public opinion," said Alan Leong, leader of the Civic Party and a spokesman for the pro-democracy lawmakers. "The proposal allows a nomination process to be manipulated by a small circle."
Pro-democracy groups have argued that the election committee would be stacked with pro-China loyalists. The four main sectors of the committee -- industrial, commercial and financial services; professions; labor, social, and religious groups; and city and local politicians -- reflect Hong Kong society, the government said.
Having a two-step nomination process is the government's way of "responding to concerns that the framework was too restrictive," said Tim Summers, a senior consulting fellow on the Asia programme at think-tank Chatham House. "But given the strong opposition from pan-democrat legislators," the government may struggle to get the proposal through, he said.
Occupy Central
The government will run a campaign, called "Make it happen," to win support, with key secretaries meeting the public to discuss the proposal, Leung said.
Today's proposal shows the 79-day Occupy Central protests last year failed to win any major concessions. While initially successful in garnering public support, the toll on businesses and traffic sapped the city's patience before the police swept exhausted protesters from the street before Christmas.
"How the government handles itself going forward could have an impact on whether pan-democratic leaders are able to mobilize public support," said Michael Davis, a law professor at the University of Hong Kong.
Mass Protests
Lam said today the government doesn't expect a repeat of last year's mass protests.
"It may be not an impossible task" to get the votes, said Ho-Fung Hung, an associate professor at Johns Hopkins University in Baltimore, who focuses on the political economy in China and Hong Kong. "Many individual democratic legislators may not run next time so they don't need to worry about voters' reaction," Hung said.
Closer ties with China have spurred rising discontent in Hong Kong as a flood of Chinese residents buy property and daily necessities, driving up prices and causing crowding. Increased economic links have also benefited the city with a trading link with the Shanghai stock exchange driving its benchmark index to is highest level in more than seven years this month.
Before it's here, it's on the Bloomberg Terminal.
LEARN MORE