Happy Earth Day! Unless You're Running for President in the GOP
Earth Day finds Republican candidates questioning global warming.
By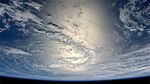 It's Earth Day, but that isn't stopping Republican presidential candidates from questioning whether global warming is real, whether humankind is causing it or whether plans to address the problem will bankrupt the economy.