Ted Cruz Says President Obama Is an 'Unmitigated Socialist'
The Republican presidential candidate demolishes the "we need a governor, not a senator" meme.
By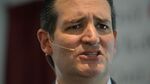 After Texas Senator Ted Cruz addressed the First in the Nation summit in Nashua, New Hampshire, on Saturday, he headed to a basement conference room for a conversation with young Republicans. There was no filming of the speech, but reporters were allowed to sit in as Cruz fielded questions about Iran, millennials, and his own fitness for president. When one audience member asked Cruz what executive experience he could bring to the job, Cruz lambasted the "greybeards" in Washington for coming up with the "senator versus governor" framework in the first place.