Scott Walker Breaks With the Kochs on Immigration
Alabama Senator Jeff Sessions gets some credit for Walker's new stance.
By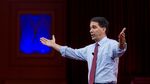 Alabama Senator Jeff Sessions was enjoying his unexpected new role: Policy adviser to a Republican presidential front-runner. Scott Walker, alone among the 2016 contenders, had talked to Sessions about immigration policy. Sessions happened to be the Senate's foremost advocate for reducing legal immigration to the United States so long as the people already in the country needed jobs.
"The next president and the next Congress need to make decisions about a legal immigration system that's based on, first and foremost, on protecting American workers and American wages," Walker said on Monday's episode of the Glenn Beck Program. "The more I've talked to folks—I've talked to Senator Sessions and others out there, but it is a fundamentally lost issue by many in elected positions today—is what is this doing for American workers looking for jobs, what is this doing to wages, and we need to have that be at the forefront of our discussion going forward."
On Tuesday, as he headed into the GOP's weekly lunch, Sessions told reporters that he fully agreed with Walker. Any Republican who wanted to be the party's 2016 nominee needed to be "fluid" on the issue–and Walker, unlike the three Republican senators now running for president, had consulted with Sessions.
"I thought it was a good statement that he made," Sessions said. "He was just saying, 'I'm going to ask the question, what is it going to do for the wages and job prospects of my constituents, the American people, as I analyze how to create a proper immigration flow into America.'"
Walker's statement puts him to the right of even Texas Senator Ted Cruz, who told New Hampshire voters this weekend that there was "no stronger advocate" for legal immigration than him. "We need to improve and streamline legal immigration," said Cruz." We need to continue to welcome and celebrate legal immigrants."
Just as surprisingly–and just as impactfully–Walker's dalliance with immigration limitation puts him at odds with the Koch networks, just a day after David Koch told reporters that he was inclined to back Walker. The Charles Koch Foundation has aggressively campaigned for immigration reform along the lines of what got through the Senate in 2013. The LIBRE Initiative, a Latino outreach wing of the Koch network, has advocated some of the same reforms, and rejected any talk of limiting legal immigration.
"Congress must act to provide the legal avenues necessary to absorb the current undocumented population as well as accommodate future immigrants," said LIBRE's executive director Daniel Garza to Congress last month. "Immigration reform should address the children brought here through no fault of their own and allow for the undocumented population to ultimately become citizens after paying back taxes and any other appropriate penalties. But at a minimum, the U.S. should put in place a pragmatic, viable market-based worker visa program that legalizes voluntary employee-employer arrangements in a way that provides immigrant workers fixed, legal certainty, and allows our private sector to adequately respond to market forces."
The contrast with Sessions's advice couldn't be starker. In January, the Alabaman released an "immigration handbook for the new Republican majority" which made the case for limiting new legal arrivals. "What sense does it make to continue legally importing millions of low-wage workers to fill jobs while sustaining millions of current residents on welfare?" Sessions asked. "We have an obligation to those we lawfully admit not to admit such a large number that their own wages and job prospects are diminished. A sound immigration policy must serve the needs of those already living here."
Sessions's argument was backed up by polling, and that's one of the reasons both immigration defenders and critics are baffled by the Walker comments.
"I'm extraordinarily glad I don't have to defend a) that level of policy gymnastics or b) that specific dubious policy," said Liz Mair, an adviser to Walker's 2012 recall campaign who was quickly hired and terminated for his presidential bid, in a series of tweets. "Internal polling must be looking dubious, showing attrition to more grassroots-conservative-preferred candidates for him to try this one."
In an interview with Bloomberg, Americans for Legal Immigration President William Gheen–who actually advocates lower legal immigration rates–said that Walker was only talking his language "because his polling data is saying that's what Republican voters want." Gheen had not forgotten that in 2006, Walker had made some favorable noises about a comprehensive reform bill. Mark Krikorian, the executive director of the Center for Immigration Studies, pointed out that Walker had said many of the same things to Sean Hannity recently, and made no waves.
"He name-dropped Sessions this time, and legal immigration cuts are what he seems to be implying, but 'imply' and 'say' are very different things coming from a politician," said Krikorian. "I don't mean to accuse him of bad faith, just that he's been vague so far–maybe it's a trial balloon, to see what kind of push-back, if any, he gets from the donor class, so he may get more specific as the campaign progresses."
"Sure, he sounds great," said Gheen. "He's trying to sound great now. But earlier, he was saying something completely different. The Koch brothers and the Chamber of Commerce and the banks and the La Raza groups, everyone that's on board with immigration reform -- they're looking for the best candidate that's capable of deceiving people. It's the biggest price tag in America today and it's the reason that America is going to hell in a hand basket. No offense to you–I'm not talking about your work specifically–but the media generally allows politicians to get away with these lies."
The media scrutiny of Walker's new comments has found him sticking to his new position. In a statement to the Milwaukee Journal Sentinel, Walker's PAC spokeswoman AshLee Strong addressed the controversy without walking back the idea that sparked it. "He strongly supports legal immigration," she said, "and like many Americans, believes that our economic situation should be considered instead of arbitrary caps on the amount of immigrants that can enter." That was concordant with what Sessions wanted–and not with what the Kochs wanted.
Sessions saw that as a bold move by Walker, a willing break with the donor class. "There has been, within the broader sense of the word, an establishment," he said. "Democrats and Republicans. I think there's been a reluctance to have the issue framed in this way. So if Governor Walker commits to a discussion of this nationwide, I think it would be helpful for the republic."