More Senators Say They Haven't Been Briefed on Clinton Cash
Democrats and Republicans say they haven't gotten a look at the dirt.
By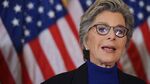 On Sunday night, New York Times reporter Amy Chozick revealed that "members of the Senate Foreign Relations Committee" had been briefed on the most rake-worthy muck in the upcoming book Clinton Cash. On Monday and Tuesday, some of that committee's members revealed that they hadn't yet been briefed; author Peter Schweizer had not sat them down to explain what could come out and bloody up the Clintons.
"You know, somebody else asked me that this morning," said Georgia Senator David Perdue, a freshman Republican. "I haven't met with him; I don't have a personal copy of the book."
"I got a lot of books to read," said Perdue's Republican colleague, Johnny Isakson, who had not been briefed by Schweizer. "I don't usually read them about Democrats, unless they're dead–ancient history."
In a statement, California Senator Barbara Boxer said that any briefing that might have occurred excluded members of the minority. "As the longest serving member of the committee," she said, "I was never briefed on the book and I know of no other Democrats on the committee who were briefed on it."
In a short interview, Delaware Senator Chris Coons, a Democrat, confirmed Boxer's story. "That is a concern to me," he said of the selective briefings. "I read the article, and I also had the question: In what context were they briefed? I have to assume that the author individually reached out to Republican senators and offered them a briefing. I have not heard from that author on that briefing."
Indeed, rather than a sit-down for all Republicans, it appears that Schweizer was selective in whom he spoke to. The only Republican who has fulsomely spoke of the "unseemly" revelations in Clinton Cash, and of his own meeting with Schweizer, is Kentucky Senator Rand Paul. After days of hinting at where his own rumors of looming Clinton scandal came from, Paul finally confirmed on Monday that he was citing Schweizer. (Reached via e-mail, Schweizer politely declined to comment until the book's official release next month.)
This matters, because the multi-limbed attack-bot of Clintonworld is trying to discredit the book by portraying it as a collaboration with biased right-wing sources. As Sam Stein and Michael Calderone reported on Tuesday, the pushback has sprung out of the Clinton campaign and the organizations founded by David Brock. It has focused on three areas: Schweizer's own books, Chozick's own revelation that the New York Times and Fox News had entered content deals with the author, and the story of Republican senators being told what to expect.
No Republican is expected to lean as heavily on Clinton Cash as Paul. The senator is planning to talk more specifically about the book's revelations when the release date closes in. Paul has attacked the Democratic front-runner over the Clinton foundation's practices and her own record as secretary of state more frequently and vigilantly than anyone else who might seek the Republican nomination.
The goal of Clinton's defenders: Jiu jitsu. Saul Alinsky's 12th "rule for radicals" is to "pick the target, freeze it, personalize it, and polarize it," on the theory that "people hurt faster than institutions." They hope that Paul and Schweitzer will do the personalizing and polarizing for them.