Hillary Clinton Says Any Trade Deal Should Boost Jobs, Wages
She and her team have been cautious about weighing in on the issue, aware they're balancing the competing views of business and labor.
By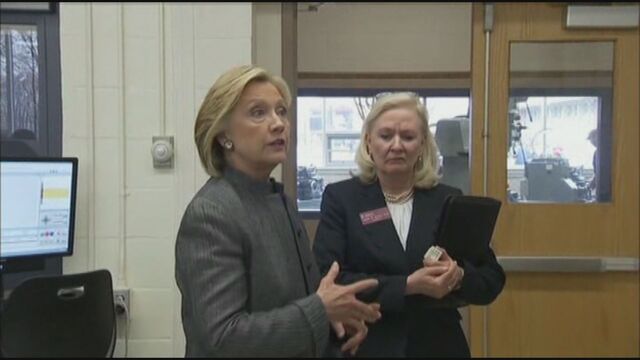 CONCORD, N.H.—Hillary Clinton wouldn't say Tuesday whether she supports the trade measure working its way through Congress but did offer some criteria she'd use to judge it.
"Any trade deal has to produce jobs and raise wages and increase prosperity and protect our security," said the former secretary of state, who was part of the Obama administration's initial efforts to negotiate the Trans-Pacific Partnership. "And we have to do our part in making sure we have the capabilities and skills to be competitive."
Her comments, made at New Hampshire Technical Institute during a tour of a computer numerical control machine lab, came in response to a reporter's shouted question about any concerns Clinton might have about the deal. As was the case on Tuesday, Clinton and her team have in recent weeks been cautious in weighing in on TPP, aware that they're balancing the competing views of business and labor.
Also on Bloomberg Politics: The Definitive Hillary Clinton Scouting Report, by Mark Halperin and John Heilemann
"It's got to be really a partnership between our business, our government, our work force, the intellectual property that comes out of our universities. We have to get back to a much more focused effort, in my opinion, to try to produce those capacities here at home," she said.
Clinton and her aides have not said whether she supports lawmakers' agreement to "fast track" the treaty approval process, nor have they gotten more specific about what she wants to see in a potential deal.