Bishop Convicted of Failing to Report Predatory Priest Is Finally Ousted
Pope Francis accepted the resignation of Bishop Robert Finn on Tuesday.
By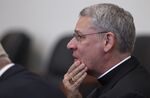 That sigh of relief you hear is the exhalation of all the Kansas City Catholics whose titular leader for the last decade, Bishop Robert Finn, became the first U.S. bishop to be convicted of failing to report a predatory priest to the police 2 ½ years ago. Today, the Vatican announced that Pope Francis had accepted Finn's resignation.