Bishop Convicted of Failing to Report Predatory Priest Is Finally Ousted
Pope Francis accepted the resignation of Bishop Robert Finn on Tuesday.
By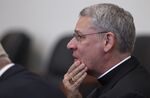 That sigh of relief you hear is the exhalation of all the Kansas City Catholics whose titular leader for the last decade, Bishop Robert Finn, became the first U.S. bishop to be convicted of failing to report a predatory priest to the police 2 ½ years ago. Today, the Vatican announced that Pope Francis had accepted Finn's resignation.
Since September of 2012, the Kansas City-St. Joseph, Missouri diocese had been supervised by someone who couldn't have taught Sunday school, because he wouldn't have passed the required background check. And as long as Finn held on to his job, the wider church had a tough time arguing that its tough new standards on protecting children meant bishops could no longer cover up for abusive priests.
Finn was convicted of a misdemeanor count of failing to report suspected child abuse in the case of the now-defrocked and incarcerated former Father Shawn Ratigan, who in August of 2012 pled guilty to producing child porn.
The National Catholic Reporter, the independent Kansas City-based paper that has been aggressively reporting on Finn, and calling his ouster, noted that the resignation resonates because "[t]he issue of holding bishops accountable has long been the largest and most provocative unresolved element in the church's handling of sexual abuse cases. In diocese after diocese and country after country, abuse victims, parents and advocacy groups have asked why bishops who inappropriately handle dangerous priests are rarely, if ever, held accountable."
They have, however, been held accountable by the small paper, which had been publishing Jason Berry's groundbreaking stories about clerical sex abuse for a full 20 years before the Boston Globe won a Pulitzer in 2003 for the paper's coverage of known priest abusers who'd repeatedly reassigned instead of reported to the police.
In this Pulitzer week, when we celebrate the best journalism in the country, including reporting on tax inversions by Bloomberg News reporter Zachary Mider, which on Monday won the 2015 prize for best explanatory reporting, the news of Finn's ouster is a different kind of validation for NCR, where columnist Michael Sean Winters writes, "This is no time for popping champagne. Everything about the situation—Bishop Finn's authoritarian manner, his conviction for failing to report child sex abuse, the years of inaction by the Holy See—is the stuff of tragedy."
Finn first ignored the suspicions of a Catholic school principal who wrote him a long letter about Ratigan. Later, he failed to report that a computer technician and then Finn's own vicar general said they had found pornographic images of young girls on the priest's computer. In fact, it was only after Ratigan tried to commit suicide that Finn acted – to try and get him help. It was Finn's vicar general who eventually alerted civil authorities, five months after the images had first been discovered.
The now former bishop has already served a two-year suspended sentence in Jackson County, Mo., and struck a deal with a judge in Clay County, Mo., to avoid a similar charge there. That "diversion compliance" agreement requires him to meet regularly with the Clay County prosecutor for 5 years.
"Let the world know that no matter who you are, you can be held to the same standards as everybody else," JacksonCounty prosecutor Jean Peters Baker told reporters after Finn was found guilty.
The church still has a long way to go to regain the moral authority it lost as the result of clerical abuse scandals around the world. A Vatican commission on protecting minors has given Pope Francis a proposal on how to handle bishops who protect abusers instead of children.
Four members of the commission were in Rome last week to discuss the controversial appointment of a newly installed Chilean bishop, Juan de la Cruz Barros Madrid, accused of covering up for the now notorious Father Fernando Karadima, whose 2011 conviction for sexually abusing children devastated the church in Chile.
Marie Collins, an abuse survivor who serves on the commission, told the Catholic news site Crux in a recent interview that she doesn't know when Francis will act, that the group's work isn't properly funded, and that its members have been asked to think about raising the necessary money themselves. She also said this: "I cannot understand how Bishop Finn is still in position."
His removal, late and obviously necessary as it was, makes the promise of other reforms more credible.