HUD Loan Sales Help HUD More Than Hard-Hit Homeowners
Heather Perlberg, John Gittelsohn and Clea Benson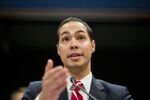 The U.S. Housing and Urban Development Department has sold $3.7 billion of soured loans since late 2012 to aid homeowners in communities hurt by foreclosures. So far, the government agency has mostly helped itself.
Borrowers resumed payments on fewer than 13 percent of the mortgages as of February, according to a department report. Almost half the loans were still in "interim status" limbo because many borrowers, who've failed to make payments for an average of three years, have abandoned their properties.
HUD is struggling to balance the dual goals of curbing losses within a troubled-mortgage insurance fund and assisting homeowners. While HUD's bottom line has benefited from the debt sales, dominated by deep-pocketed firms backed by Oaktree Capital Management and Blackstone Group LP, there are few signs the program has helped neighborhoods laden with vacant homes. Delinquent borrowers are often hard to find, making it difficult to pursue alternatives to foreclosure.
"You're dealing with homeowners who are long gone or tenants who have no right to the mortgage," said Peter Grof, deputy to the president at New Jersey Community Capital, which provides financing assistance in underserved neighborhoods. Almost half the 761 loans that the nonprofit won in two 2012 HUD auctions were on vacant or tenant-occupied properties.
HUD said in 2012 that its community-focused auctions, while stemming losses, would be "accompanied by sale terms that promote neighborhood stability in hard-hit communities."
Winning bidders have four years to get at least half the loans in a portfolio to reperform or another approved outcome, such as holding the property for rental or selling to an owner-occupant.
Stemming Losses
HUD established the loan-auction program as it faced mounting losses to the Federal Housing Administration's insurance fund stemming from the housing crash. The fund needed a $1.7 billion infusion from the Treasury Department in 2013, the first in the agency's 80-year history.
HUD has auctioned more than 98,000 nonperforming loans with an unpaid balance of $16.7 billion since 2010. The majority of the loans -- about $13 billion -- were sold in national pools outside the neighborhood-stabilization program. They came with few requirements aimed at improving communities or helping delinquent borrowers.
Part of the reason such improvements have been difficult to achieve is that nonprofit groups focused on helping troubled neighborhoods are having a hard time winning HUD's auctions.
Group Outbid
New Jersey Community Capital was outbid in 2014 for more than 100 soured loans tied to homes in Cumberland County, New Jersey. Then the winning bidder, Kondaur Capital Corp., a mortgage servicer backed by investment firm Tourmalet Advisors, offered to sell the same delinquent loans to the nonprofit -- for a profit.
"As you can imagine, they didn't want to sell it to us at a greater discount," Grof said. "We couldn't make the numbers work."
Kondaur Chief Executive Officer John Kontoulis didn't respond to telephone messages seeking comment on the offer.
Allowing auction winners to resell the loans to nonprofits distorts the process, said Sarah Edelman, a senior policy analyst at the Center for American Progress, a Washington-based organization aligned with Democrats.
"Every dollar in profit they collect is relief that could have gone to a homeowner," she said.
Kondaur also sold a small group of loans, some of which were purchased from HUD, to Home Preservation Exchange, a nonprofit focused on neighborhood stabilization, CEO Sharon Pratt said.
HUD 'Trying'
"Unless we trade with the winners -- the institutional investors when they are having problems -- it's very hard in these auctions," said Pratt, a former Washington mayor. "I think HUD is trying, but they need to come up with smaller pools and clearer guidelines or requirements that enable nonprofits, smaller firms and those that are minority- or women-owned to be competitive."
HUD is working to improve the program, Secretary Julian Castro said. The department held a two-day seminar in February to encourage more nonprofits to participate.
"It is something that's on the radar screen and that we've taken action on," Castro said in an interview.
HUD recovered 55 percent of the unpaid principal on loans sold, compared with 45 percent for FHA mortgages that passed through foreclosure, according to the department's fiscal 2014 year-end report.
For the $3.7 billion of debt sold through the neighborhood-stabilization program, winning bids totaled $1.86 billion, or just over half the loans' unpaid balances, according to department reports.
Precedent Set
HUD's neighborhood-stabilization program, under which it has sold 21,000 nonperforming loans, set a precedent for Fannie Mae, which announced plans on April 8 for its first bulk sale of soured debt. Winners of the 3,200 loans with $786 million in unpaid principal balance will be required to offer loan modifications to borrowers or market the properties to owner-occupants and nonprofits before selling to investors.
Providing aid to homeowners is often challenging because of the large number of deeply delinquent loans on HUD's books, said Genger Charles, the FHA's acting general deputy assistant secretary. While most loans sold through neighborhood-stabilization auctions hadn't been current for an average of three years, delinquencies in one New Jersey portfolio averaged seven years, leaving winning bidders with limited options, she said.
'Different Environment'
With the housing market rebounding and home values climbing, HUD is reassessing the loan-sale process, Charles said in an interview. The department hasn't announced an auction since the last results were released in November.
"When we built this program, vacancy rates were high," she said. "You were really just trying to stem the bleeding in neighborhoods across the country. We're in a different environment and so we need to reflect on whether or not the things we set out to do then were the same things that we should have now."
Prolonged delinquencies depress property values more than a quick foreclosure that results in having a new owner who's able to maintain the house, said Paul Willen, research economist at the Federal Reserve Bank of Boston. Each home with a delinquent mortgage reduces the value of neighboring properties by as much as 2 percent, he said.
"It's not good for neighbors to have a delinquent borrower next door," Willen said.
'Potentially Impede'
Performance reports by individual winners of the first three HUD auctions, in which a total of $1.57 billion in debt was sold, show a wide range of outcomes. The quarterly reports were obtained by Bloomberg through a Freedom of Information Act request. HUD wouldn't release reports from auction winners dated later than last June "because it could potentially impede how we execute the next sale," Charles said.
As of last June, one buyer, Corona Asset Management, had almost met HUD's stabilization goal less than two years after buying loan pools in Phoenix and Southern California. About 35 percent of outstanding loans purchased in three pools in 2012 and 2013 were resolved by finding new owners, and almost 6 percent were reperforming or in trial modifications, according to filings.
Those portfolios have since surpassed HUD requirements, said Gary McCarthy, managing partner at HMC Assets LLC, which formed Corona and won auctions with $742.6 million in unpaid principal. As of January, Corona also had earned more than half the points needed to meet HUD's requirements for three other portfolios purchased last year, he said.
Replacing Owners
Oaktree-backed DC Residential had a lower rate of HUD-approved outcomes than foreclosures or other resolutions that earn credit. DC Residential, the winner of seven loan pools with unpaid balances of $807.6 million, resolved less than 4 percent of its loans with foreclosure alternatives for the period through June, mostly by replacing delinquent owners, according to HUD filings.
The firm is on pace to fulfill all requirements for debt acquired in late 2012 through 2014, and had achieved or was on track to achieve approved outcomes on 51.3 percent of loans as of March 31, said Carissa Felger, an Oaktree spokeswoman.
About 28 percent of loans purchased by Blackstone-backed Bayview Asset Management were either reperforming or in trial repayment plans as of June, HUD's reports show. That was the most among all buyers of debt in the neighborhood-stabilization program. Bayview has acquired 6,863 loans with unpaid principal balances of $1.3 billion, making it the program's biggest purchaser.
'Foreclosure Avoidance'
Servicers such as Bayview "generally have the incentives, capabilities and the proprietary programs necessary to achieve high rates of foreclosure avoidance for these loans," Carlos Prevolis, vice president of portfolio management at Bayview, said in an e-mail.
Both for-profit investors and nonprofit groups do a better job of managing delinquent properties than HUD can, said Susan Wachter, a professor of real estate at the University of Pennsylvania's Wharton School.
"This is a win-win for neighborhoods and the FHA," Wachter said. "This is managing a disaster."
Some housing advocates contend HUD could do better. By seeking the highest prices for loans, the department is failing in its broader mission of promoting neighborhood improvement and housing opportunities, said John Taylor, CEO of the Washington-based National Community Reinvestment Coalition.
"They have to look at the holistic impact of these sales," he said. "It's OK not to take as much up front if the goal is continuing to promote stable communities, increase homeownership, increase the tax base and the ability of working-class families to build wealth."
Before it's here, it's on the Bloomberg Terminal.
LEARN MORE