Poll Shows Scott Walker Trailing Hillary Clinton in Wisconsin
The governor does top the GOP field of presidential contenders in his home state.
By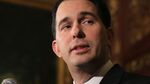 Wisconsin Governor Scott Walker is not enjoying much of a home court advantage of late. 
A new Marquette Law School poll finds that Walker's approval rating in Wisconsin has fallen to 41 percent, with 56 percent surveyed saying they disapproved of how he is handling his job. The 41 percent figure is the lowest recorded since the Marquette poll began surveying registered voters three years ago. In October of 2014, the poll found that 49 percent of voters in Wisconsin approved of the way Walker was handling his duties as governor, while 47 percent disapproved. 
Though Walker has yet to declare himself a candidate in the 2016 presidential election, the poll contained some good news and some bad news on that front. Among Wisconsin Republicans and independents, Walker is the clear first pick for president, with 40 percent saying they would vote for the governor. Kentucky Senator Rand Paul received 10 percent support in the poll, former Florida Governor Jeb Bush took third with eight percent, Texas Senator Ted Cruz and New Jersey Governor Chris Christie tied with six percent each, former Arkansas Governor Mike Huckabee and retired neurosurgeon Ben Carson each tallied five percent.
But while Walker might face little resistance during his own party's primary, the general election could pose a different situation. The poll found that the governor trails former Secretary of State Hillary Clinton by 12 points, 52-40 percent, in a head-to-head match-up. 
Walker can console himself with the fact that he's not the only GOP governor who is considering running for president who is suffering from lagging poll numbers in his home state. A March poll taken in Louisiana by Triumph Campaigns found that Governor Bobby Jindal's approval rating there had sunk to just 27%, and an April Rutgers University poll saw New Jersey Governor Chris Christie's approval rating fall to a record low 41 percent.