Can Hillary Clinton Solve the Democrats' White Voter Problem?
In the Obama era, many white Democrats deserted the party. In places like Kentucky and West Virginia, there's hope that Clinton can reverse that migration.
By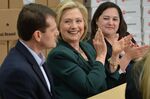 It never really dawned on Leslie Combs that Hillary Clinton might lose. Combs, a new state legislator from Pike County, Kentucky—Democratic turf since the Union fought the Confederacy—had endorsed Clinton's 2008 presidential bid. And yet the frontrunner stumbled, and kept losing primaries to a freshman senator named Barack Obama.
"Our region had no thought or concept that he would win," said Combs. "There were people who were just in awe about what was happening. Our folks were just so dead set for her and had no intention being for him. As soon as she was out of the picture, the rest of us Democrats would be out."
So Combs stumped for Clinton, personally begged her to "hang in there." She won the state in a landslide, won Pike County by a 90.9 to 6.6 percent margin over the next president of the United. In late 2008, Hillary Clinton stumped in Pikeville, the county seat, because Democrats thought she could boost their U.S. Senate candidate and the president couldn't. The airline hangar reserved for the rally was "packed to the gills," recalled Combs, with people "pressed against the fence" to see the New York senator.
"I told her, I'm not sure we can win, because you're not on the ballot, and that other guy—I stopped short of saying black guy—is," remembered Combs. "If you were on the ticket, these people would come out."
The Democrats ended up losing that Senate race. Their candidate, businessman Bruce Lunsford, won Pike County by 14 points. Barack Obama lost it by 14 points. And that was the best he'd ever do in Appalachia. In 2012, Mitt Romney, as culturally ill-fit to coal country as any Republican could be, took the county by a 50-point landslide.
That, say many Democrats, is something Hillary Clinton could personally reverse. Outside of the immediate Clinton family, few people are as thrilled by the former Secretary of State's bid as white Democrats who've watched their local parties collapse, Barack Obama's name weighing on them like an anvil. They are ending his presidency with zero senators, zero state legislatures, and zero governors in the deep south. Kentucky, which Bill Clinton narrowly won twice, is the only such state where Democrats still hold most offices and one house of the legislature.
Nowhere is the story grimmer than in Arkansas, where Bill Clinton won eight statewide elections. At the start of the Obama presidency, Democrats controlled 27 of the 35 seats in Arkansas's state senate, and 71 of the 100 seats in its state house. After the pummelings of 2010, 2012, and 2014, the Democrats are down to almost exactly half of that—13 senate seats and 36 house seats.
Barack Obama was able to win the presidency twice regardless, despite shedding most of the old, white America that had voted Democratic for years. He was the first Democratic candidate for president, ever, to lose every county in West Virginia. He won Ohio twice while losing Appalachian counties that had stuck it out for Walter Mondale and Mike Dukakis. Both of those men lost Virginia while taking some counties in its Appalachian southwest. Obama won the state twice, and lost every county in that region by at least 36 points.
To many Democrats that just makes Hillary's job easier. There is a voter—there are thousands of voters—who loyally voted for white Democrats and would never vote for Obama. Take Obama's name off the ballot and they swim right back. They might not admit this outright, and more than one former legislator chose to withhold his name after sharing a story about a racial epithet directed his way on the path to defeat. Yet it's implied.
"The GOP spent the last six years demonizing the president over various issues and it's been extremely successful," said Kentucky Governor Steve Beshear, a two-term Democrat whose son is running for attorney general this year. "It's shown in the polling I do. When you ask people their opinion of Obamacare, it's highly negative. When you ask about [the state exchange] KYNect, it's another story—very positive. I'm hopeful that Hillary, should she be our candidate, will have a fresh chalkboard, write a new narrative."
The new Clinton confidence is easy to find on a map. The promise of a Democratic ticket led by Hillary Clinton—not, finally, Barack Obama—is making it easier for red and rural district Democrats to recruit candidates. It pulled former Ohio Governor Ted Strickland, an early 2008 endorser of Clinton, into that state's U.S. Senate race. According to Greg Stumbo, the Democratic speaker of Kentucky's House, he had to lobby personally and plaintively to keep Democrats from retiring in 2014. Getting them to run again in 2016 is a breeze.
"If you've been on a ballot with Obama twice—even once—you'd find this to be a very welcome change," he said. "You won't have to defend him."
As early as November 2014, the nascent Clinton organization was so confident that it could bring back white Democrats that it helped reporter Dylan Scott build a map of new 2016 swing states. "Where I think Secretary Clinton has more appeal than any other Democrat looking at running is that with white working-class voters, she does have a connection," explained Mitch Stewart, as he envisioned a Clinton campaign that could win back Missouri, Georgia, and Arkansas. In a December interview with the Wall Street Journal, pollster Geoff Garin said basically the same thing: Clinton had a "proven track record of building support among white, working class voters in key states."
The basis for that theory is in 2008's elongated Democratic primary. Clinton, who made plenty of errors, was felled at last by bad luck. Most of the new-growth Democratic states had voted by the end of March, while most of Appalachia was being limited to the choice of Clinton or Obama. In state after state, Clinton obliterated Obama with white voters—Ohio, Pennsylvania, West Virginia, Kentucky, North Carolina, Indiana. The non-white voters who might stay home or switch to the Republicans—they'd be overwhelmed by the returning whites.
The trouble with that theory comes when any of the Democrats' tough 2014 races come under the spyglass. In every one of the tough red states, in federal races, Democrats separated themselves from Obama and ran as members of the coming Clinton restoration. In Kentucky, Democratic recruit Alison Lundergan Grimes challenged Senator Mitch McConnell as a proud "Clinton Democrat." Two-term Senator Mark Pryor mocked his opponent, Tom Cotton, for making the campaign about the waning Obama presidency. "Who's there the next four years?" Pryor asked. The answer was obvious: Hillary Clinton.
Yet Pryor and Grimes lost, after plenty of Clintonian intervention. "Bill was everywhere," recalled Arkansas Republican John Boozman. The laying-on-of hands, the explicit promises that putting up with Obama would allow another Democrat to take over, did not save Pryor from a 19-point loss over all, and a bigger defeat among white voters.
Defeats like that have convinced Republicans that the great white voter migration is on, and there will be no reversal. In 2008, perhaps, Clinton could have closed a cultural distance that Obama couldn't. But she went to work in his administration. She's re-entered politics after a combination of progressive organizing and conservative Democratic losses have made the national Democratic party clearly pro-gay marriage, pro-green energy.
"The war on coal's changed a lot of voting patterns out there," said Kentucky Senator Rand Paul. "They fool themselves on Clinton because they say: Oh, Bill Clinton won Kentucky twice! We're Clinton Democrats! Grimes, remember, she ran as a Clinton Democrat. Clinton won a plurality, like 43 percent, in Kentucky. Without Ross Perot, he loses."
In Pikeville, where Democrats still win local races, former Democratic Governor Paul Patton lives in semi-retirement on the campus of the growing university. One snowbound day in February, he sat in his living room, not far from pictures of Bill Clinton's many visits to his state, and suggested that a Clinton-led Democratic Party might turn back some of the liberal views that had flunked in Kentucky. He speculated, in particular, that the Clintons might favor an energy policy that gets away from the anti-carbon policies of the Obama EPA.
"If the ocean raises 5 feet over 100 years, what does that really do?" Patton asked. "It's hard for me to figure out that, evidently, we in the past had a perfect environment, and now we only get the worse of it. It's strange to me that global warming is going to cause all these negative things to happen, and no positive. I'm not that much of an expert on it. I'm an engineer—I'm inclined to believe science. But I don't see anyway you're going to reduce the amount of coal burned in the next 50 years."
The party Hillary Clinton will likely inherit from Barack Obama has very few voices like Patton's. Yet even a marginal gain among white voters—something like John Kerry's 41 percent of that vote in 2004—would tighten up the rural counties. What's important for Democrats, as they recruit their candidates after years of winnowing, is that they think she can pull it off. Their problem voters simply aren't as scared of Clinton as they are of the current president.
"I think if anyone has a chance, Hillary Clinton is it," said Democratic West Virginia Senator Joe Manchin. "They're comfortable with her. They've voted for her overwhelmingly in 2008. She would be the best hope in the state of West Virginia to return [to Democratic] on a national level."
Sometime this spring, Manchin is expected to consider whether to leave the Senate and run for governor, the job he gave up in 2010. Doing that would make him the latest of the dwindling rural Democrats to bet that sharing a ballot with Clinton will be easier than any association with Barack Obama.