Can Hillary Clinton Solve the Democrats' White Voter Problem?
In the Obama era, many white Democrats deserted the party. In places like Kentucky and West Virginia, there's hope that Clinton can reverse that migration.
By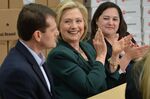 It never really dawned on Leslie Combs that Hillary Clinton might lose. Combs, a new state legislator from Pike County, Kentucky—Democratic turf since the Union fought the Confederacy—had endorsed Clinton's 2008 presidential bid. And yet the frontrunner stumbled, and kept losing primaries to a freshman senator named Barack Obama.