Bloomberg Politics Poll: Sexual Orientation Deserves Same Protection as Race, Americans Say
A majority also says the country is on the road to full marriage equality.
By and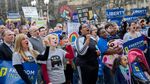 Nearly three quarters of Americans say sexual orientation should be protected from discrimination the same way race is, according to a new Bloomberg Politics poll.
The finding of widespread support for legal protections for gays and lesbians comes in the wake of the contretemps over religious-liberty laws in Indiana and Arkansas, and with the Supreme Court expected to rule broadly on the constitutionality of same-sex marriage in June.
"Gay people and people of color are going through the same fight to be accepted," said Brandi Jackson, a 31-year-old nursing assistant from Baltimore who is African-American and participated in the poll. "It doesn't matter your race, your orientation. Everybody should be treated fairly."
Eighteen percent said sexual orientation should not be protected the same way race is, and eight percent said they were not sure. The poll of 1,008 adults was conducted April 6-8 by the West Des Moines, Iowa-based Selzer & Co. It has a margin of error of plus or minus 3.1 percentage points.
A majority of Americans say the country is on the road to full marriage equality, though notwithstanding the Supreme Court's upcoming ruling, they are skeptical it will happen overnight. Fifty-eight percent said same-sex marriage will be legal in all 50 U.S. states in the next 10 years. That includes 26 percent who said gay marriage would be allowed nationwide in the next five years, and seven percent said those rights would be extended in the next year.

At present, same-sex couples can marry in 36 states—25 by court decision, eight as a result of laws passed by state legislatures, and three by popular vote. The change in attitudes on gay marriage has occurred at a striking pace: Massachusetts became the first state to legalize same-sex marriage just 11 years ago, in 2004. 
Twenty-six percent in the poll said gay marriage will never be legal in all 50 states, including a third of self-described conservatives and a fifth of self-described liberals.
"You're going to have your conservative states who are going to say, 'We don't want that,'" said Don Henley, 26, an independent from Virginia who said he supports gay marriage. "There'll be a few straggler states."