It's Very Hard to Punish Cops, Even in Court
Legal standards to protect police set a high bar for convictions
By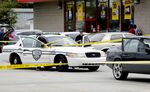 On April 7, prosecutors in North Charleston, S.C., filed murder charges against a white police officer who fatally shot an unarmed black man in the back after he fled during a traffic stop. The officer, Michael Slager, has been dismissed from his job and is being held without bond at the Charleston County Detention Center. Politicians in the city, which is 47 percent black, have said they believe Slager must be held accountable. "When you're wrong, you're wrong," North Charleston Mayor Keith Summey said at a press conference. "Don't care if you're behind the shield or just a citizen on the street."
Protests erupted across the U.S. last year after juries in St. Louis and New York decided not to indict white policemen involved in the deaths of unarmed black men. In their wake, prosecutors around the country have moved to put law enforcement officers on trial rather than let cases be handled internally by police and sheriff's departments. Prosecutors in Tulsa filed manslaughter charges on April 13 against a 73-year-old reserve deputy sheriff who apparently mistook his gun for a Taser and shot and killed an unarmed man.
Yet police face a different standard than civilians. According to the 1989 Supreme Court case Graham v. Connor, law enforcement officers can justify using deadly force when a suspect poses "an immediate threat to the safety of the officer or others." The FBI doesn't track officer shootings nationwide. According to an analysis by the Washington Post and Bowling Green State University, 55 officers have been criminally charged in shooting deaths in the past decade. Of those, only 11 have been convicted. "We need cops, and in general we tend to respect what they do every day, so if they're doing their job and there's a bad outcome, then we want to look for the reason why," says Eugene O'Donnell, a former New York Police Department officer who's now a professor at the John Jay College of Criminal Justice. "We give them the benefit of the doubt, in other words."
In December a grand jury in Orangeburg, S.C., returned murder charges against Richard Combs, the white police chief of the 300-person hamlet of Eutawville, who shot and killed an unarmed former corrections officer named Bernard Bailey in 2011. At the time, some said the indictment proved South Carolina was especially sensitive to the rights of black Americans. "The brand of justice, ironically, in this state has proved at this moment across America to be even higher than that that we see in New York City," Bailey family attorney Carl Grant said when the charges were announced.
Combs's trial began on Jan. 7 and ended a week later with a hung jury. Combs had been trying to arrest Bailey on an obstruction of justice charge after Bailey tried to stop Combs from writing his daughter a traffic ticket for a broken taillight. Combs said he'd been standing in the open door of Bailey's truck trying to handcuff him when Bailey put the vehicle in reverse. "I've never been that scared in my life," Combs testified.
"The people who are charged with enforcing the law have an even higher duty to obey the law," says Paul Butler, a former federal prosecutor who now lectures on civil rights and discrimination at Georgetown University Law Center. "Unfortunately, police officers know that it's very unlikely that they'll be punished even when they knowingly use excessive force against citizens. If they thought there was a realistic chance that they would be investigated and prosecuted, that would be an effective deterrent."
The bottom line: After Ferguson, prosecutors are moving to charge cops who shoot unarmed civilians, but legal standards favor police.
Before it's here, it's on the Bloomberg Terminal.
LEARN MORE