Hotel That Hosted Kennedy Put Up for Sale by DuPont
Jack Kaskey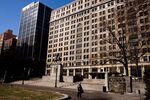 In its heyday, the 102-year-old Renaissance-style Hotel DuPont in downtown Wilmington, Delaware, hosted First Lady Eleanor Roosevelt and President John F. Kennedy. Out in the city's suburbs, the DuPont Country Club offers a choice of three 18-hole golf courses.
Now both are up for sale after being cited by an activist investor as symbols of their owner's corporate excess. DuPont Co. has started soliciting bids, according to a person familiar with the auction who asked not to be identified because the process isn't public. Dan Turner, a DuPont spokesman, declined to confirm the company is accepting bids.
"We have been and remain open to divesting these properties if appropriate value can be received for shareholders," Turner said Thursday in an e-mail.
A sale of the hotel and the club would line up with changes sought by activist investor Trian Fund Management, which is seeking the election of four nominees to the company's board next month. Trian, founded by veteran activist Nelson Peltz, says DuPont has as much as $4 billion of "excess" costs and should be broken up.
The chemical company has said a breakup would be costly and high-risk.
Still, DuPont has gone ahead with its own cost-cutting plan to eliminate $1.3 billion of annual expenses by the end of 2017. In December, DuPont said it would move senior executives out of offices within the hotel and into Chestnut Run Plaza, an existing company complex about 4 miles (6 kilometers) away. A month later the company announced the sale of the 1,250-seat DuPont Theater located in the same building as the hotel.
Questionable Fit
Trian in a Sept. 16 letter to DuPont's board said the country club, hotel and theater are "examples of corporate largesse" and that their "strategic fit" is questionable.
The 217-room hotel on Wilmington's Rodney Square is the product of a bygone era, with original oil paintings lining the walls of the Green Room restaurant, which features live music, gold chandeliers and wingback chairs. In addition to its golf courses, the country club has two restaurants and 25 tennis courts that have hosted grand-slam champions Margaret Osborne DuPont, Billie Jean King and Venus Williams.
Before it's here, it's on the Bloomberg Terminal.
LEARN MORE