China's Former IPO King Looks for a Fresh Start
Once the leading investment bank, CICC needs a new strategy
By and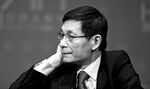 China International Capital Corp. was once known as China's answer to Goldman Sachs. Run by Levin Zhu —the son of then-Premier Zhu Rongji—it helped take some of the country's biggest companies public, including China Construction Bank and China Petroleum & Chemical. The era of mega-IPOs is gone, and so is CICC's dominance. It hasn't been China's top investment firm since 2005 and has fallen over the past decade from first place in revenue to 21st in 2013.
Now Zhu is gone, the bank has new leadership, and it's planning an initial public offering this year to raise capital and expand into new businesses—moves that Zhu once resisted. "The firm has hit a bottleneck and is stuck in the middle," says Chi Man Wong, an analyst at China Galaxy Securities in Hong Kong. "They have a decent investment banking business, but that's not an exciting story, and I can't see a growth driver."
The man who ran investment banking at CICC during its heyday, Bi Mingjian, returned as its chief executive officer in March, filling the position vacated when Zhu resigned in October. The IPO he'll oversee, which may raise $1 billion, would potentially double the capital that CICC could use to support margin lending and its brokerage and asset management businesses, big sources of revenue for CICC's rivals.
The expansion is crucial because the industry has shifted from a focus on taking companies public to providing a range of financial services to corporations and wealthy individuals. Net revenue from traditional investment banking—underwriting stock and bond issues and providing financial advice to corporations—fell to 12 percent of the investment banking industry's total revenue last year, from 17.8 percent in 2011, according to the Securities Association of China. Over that time, investment income—what the companies earn from trading for their own accounts and other market activities—jumped to 27 percent, from 3.7 percent. "The market landscape has undergone dramatic changes, and it's no longer investment banking-focused," says Bei Duoguang, who worked with Bi at CICC and now runs his own microfinance business. "It's critical to see if CICC can adjust strategy according to the market changes amid the intensifying competition."
Bi was most recently a partner at private equity firm Hopu Investment Management in Beijing. He'll "have some catching up to do" to oversee a wider portfolio, says Bob Dodds, who worked at CICC with Bi for seven years and now heads DRP Capital, which advises on cross-border China acquisitions. "They have to develop new products and find new revenue sources," Dodds says. "Sometimes that also requires a different style of banking and a different type of team as well, so they've got a lot of challenges." Bi and CICC declined to comment.
When CICC's 2014 results are released in late May, they will show a 60 percent increase in revenue from the year before, thanks mainly to the end of the government's 14-month ban on IPOs at the start of the year, according to two people familiar with the numbers who asked not to be identified because they aren't yet public. The recovery is in line with the industry's: Revenue at 120 securities firms totaled 260.3 billion yuan ($41.9 billion) last year, a 63 percent increase from the year before, when 115 companies were tracked, according to the Securities Association of China.
China expanded the scope of its securities industry in 2012, allowing for the first time such activities as lending money for the purchase of stocks and bonds and the use of securities as collateral for loans. CICC's competitors were quick to seize the opportunities. By 2013, Citic Securities, with 5 billion yuan in fees and commissions, ranked first in generating revenue from margin financing, followed by Guotai Junan International Holdings and Huatai Securities. That year, CICC earned 1.9 billion yuan in fees and didn't show up in the Securities Association of China rankings. "CICC will be a latecomer," says China Galaxy's Wong, "and it's questionable if they can be a meaningful player in those businesses operated by existing rivals."
During his 12 years at the helm of CICC, Zhu resisted expansion and didn't take advantage of China's stock market boom in the mid-2000s by moving into proprietary trading or buying brokerages, according to people who worked with him at the time and asked not to be identified because they're not authorized to speak publicly. Zhu couldn't be reached for comment.
Several top CICC executives left during Zhu's tenure because of his reluctance to accept outside ideas, people who worked with him said at the time. Bi stepped down from his post as co-head of investment banking in late 2005 and was assigned to work on CICC's fledgling business in the U.S., according to two people familiar with his departure. Other high-profile bankers who left include managing director Ding Wei, who joined Temasek Holdings in 2011, and Jiang Guorong, executive chairman of investment banking, who joined UBS last year.
Bi has CICC's brand and connections to build on, says Wong, but those won't help without a clear strategy. "They need to find their own niche," he says. "It's not clear where the company is heading next, and the new management needs to tell investors what its road map is three years down the road."
The bottom line: Raising as much as $1 billion from an IPO would give CICC money to invest in margin lending and brokerage operations.
Before it's here, it's on the Bloomberg Terminal.
LEARN MORE