politics
Bloomberg Politics National Poll Finds Improving Economic Mood
But almost 70 percent say inequality is growing, which provides Hillary Clinton an opening.
By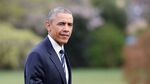 Hillary Clinton's presidential hopes may be buoyed by a more optimistic feeling about President Barack Obama and the economy seen in a new Bloomberg Politics poll.
Americans are becoming more optimistic about the country's economic prospects by several different measures. President Barack Obama's handling of the economy is being seen more positively than negatively for the first time in more than five years, 49 percent to 46 percent—his best number in this poll since September 2009. But the national survey of 1,008 adults, conducted April 6-8, also reveals that about three-fourths of Democrats and independents, along with a majority of Republicans, say the gap is growing between the rich and everyone else—and a majority of women want the government to intervene to shrink it. The poll has a margin of error of plus or minus 3.1 percentage points. 1
These findings provide context to Clinton's decision to start her presidential campaign the same week as Americans must file their tax returns, and to tie it to a message about empowering the middle class in a roll-out that echoes Obama's own public messaging. (As an illustration of the issue's potency, even 2012 Republican nominee Mitt Romney, when he was contemplating another run at the White House, made the issue of inequality a centerpiece.) The survey also suggests Obama may be able to help the next Democratic presidential nominee, or at least not be seen as the liability he was perceived to be for his party in last November's midterm elections.  

"The uptick extends not just to Obama but to the mood of the country and to things getting better," says J. Ann Selzer, president of West Des Moines, Iowa-based Selzer & Co., which conducted the poll. "This will be an interesting potential transition, if it's a movement that signals the country is more cognizant about things turning better and that, in an indirect way, they're feeling better about Obama."
Obama's overall approval rating is now 47 percent to 46 percent, the first time more approved than disapproved since June 2013. 
The right-track/wrong-track numbers, crucial for a candidate who's trying to win the White House for her party's third straight term, are also improving. Asked about the nation's direction, 31 percent said things are moving in the right direction, up from 24 percent in December. Thirty-four percent said the national economy will become stronger over the next year, while just 21 percent said it will get worse and 44 percent predicted the status quo. That's up from last June, when 30 percent said things were getting better.
Americans were also more optimistic about the prospects for job growth, the housing market, America's standing in the world, and even health care costs than when asked the same questions last June. Health care costs remain a significant concern, with 56 percent of those surveyed still expecting costs to get worse.
Majorities of Americans across partisan lines say the gap between the rich and everyone else is getting bigger—69 percent—compared with 17 percent who say it's staying the same and 10 percent who say it's getting smaller. Still, that feeling is more intense among Democrats, at 76 percent, and independents, at 72 percent, than Republicans, at 59 percent.

Partisanship becomes even more decisive when it comes down to what to do about that gap. Seventy percent of Democrats say it's better for the government to implement policies that shrink the gap, while 75 percent of Republicans and 52 percent of independents say it's better to stand aside and let the free market prevail.

Gender also comes into play on this question, with 42 percent of men saying the government should implement policies to shrink the gap and 54 percent of men saying it should be left to the free market. Meanwhile, 51 percent of women saying it's better for the government to implement policies that shrink the gap while 41 percent of women say the free market will sort it out. 2
Jennifer Gray, 35, a Republican from Butler, Pennsylvania, said the economy will be a central question as she considers who to support for president. She says even though she is socially conservative, she liked Clinton in 2008 and would consider voting for her in the general election if she becomes the Democratic nominee in part because of her appeal to the middle class.
"If Hillary's in the race I might vote for her," Gray said. "I like her."
"It just seems like the higher income have this power over every one," said the mother of five, who finished high school and began college but left without a degree to raise her children. "I consider us at the very bottom" of the nation's economic ladder.
"I know we're all Republicans or Democrats but in the end we all have to work together for things to work out in the end," she said.
The margin of error for subgroups is higher, including +/- 5.6 percentage points for Democrats, +/- 6 percentage points for Republicans, +/- 5 percentage points for independents, +/- 4.4 percentage points for men, and +/- 4.3 percentage points for women. Read the full poll questions and methodology here.
Before it's here, it's on the Bloomberg Terminal.
LEARN MORE