business
The Cash-Only World: Two Billion People and Shrinking Fast
Five surprising findings from a World Bank survey on who's financially included and excluded
By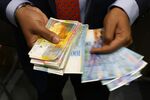 About 2 billion adults worldwide are "unbanked," down from 2.5 billion in 2011, the World Bank says in a new report based on a survey of about 150,000 people in more than 140 countries. Unbanked people are frozen out of the financial system and must deal strictly in cash: no deposits, no checks, no mortgages, no ATMs. The World Bank report—released on April 15, conducted in conjunction with Gallup World Poll, and paid for by the Bill & Melinda Gates Foundation—has some surprises: 
The Middle East is the most unbanked part of the world. Only 14 percent of adults have accounts, compared with 62 percent worldwide. 
India and China accounted for half the increase in the number of the world's "banked." But 43 percent of Indians who reported having accounts said they hadn't made a deposit or withdrawal in at least 12 months.
The U.S. ain't No. 1. Only 94 percent of Americans said they had a financial account, vs. 100 percent in Denmark, Finland, New Zealand, Norway, and Sweden.
Sub-Saharan Africa is the only part of the world where many people have "mobile money" accounts through their cell-phone companies but don't have ordinary bank accounts. 
In developing countries, 46 percent of savers said they saved only informally—such as by stashing cash at home or saving in the form of jewelry, livestock, or real estate. 
Increasing financial inclusion is crucial, the World Bank report says: 
Studies show that when people participate in the financial system, they are better able to start and expand businesses, invest in education, manage risk, and absorb financial shocks. Access to accounts and to savings and payment mechanisms increases savings, empowers women, and boosts productive investment and consumption. Access to credit also has positive effects on consumption—as well as on employment status and income and on some aspects of mental health and outlook. 
The report also looked at what percent of men and women in each country was "unbanked." In an interview, World Bank economist Leora Klapper, the report's lead author, said women like having accounts because it helps them keep control of their money. A factory worker in Bangladesh complained to Klapper that when she was paid in cash, her mother-in-law would wait outside the factory gates each week to take the money from her.
Nigeria's Ministry of Agriculture and Rural Development is a leader in getting people cheaply "banked." The government used to use a network of distributors to deliver fertilizer and seed to farmers, but corruption was rampant. In 2012, Minister Akinwumi Adesina introduced an "electronic wallet" that puts vouchers for fertilizer and seed into e-wallets on the farmer's mobile phones, allowing them to buy what they needed, when they needed it. Corruption and inefficiency declined dramatically. Adesina, who visited Bloomberg on April 14, is touting the success of electronic wallets in his candidacy for the presidency of the African Development Bank. 
Before it's here, it's on the Bloomberg Terminal.
LEARN MORE