Most Chinese Peer-to-Peer Lenders Will Fail, Lufax's Gibb Says
Zeke Faux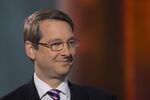 The vast majority of China's more than 1,500 peer-to-peer lenders are going to fail, with as few as one in 20 surviving, according to Gregory Gibb, who runs the biggest.
"Their business models are turning into pyramid schemes," Gibb, chairman of the lending platform Lufax, said in an interview Wednesday at Bloomberg's headquarters in New York. Some promise unrealistic returns to investors and lend without enough data to determine borrowers' creditworthiness, he said.
Gibb said there were just a handful of people considering peer-to-peer lending in China when he was setting up Lufax four years ago. Now, newcomers to banking -- from a shoe company in Wenzhou to the country's biggest fireworks maker -- are jumping in, chasing quick returns in a largely unregulated industry.
Peer-to-peer lending surged almost 13-fold since 2012 to $41 billion last year as the number of platforms multiplied, according to data compiled by Yingcan Group, which tracks the nation's lending platforms. Chinese regulators are considering implementing minimum capital requirements that would push many smaller players out of the market, Gibb said. Many platforms aren't making enough loans to be sustainable, he said.
"The hardest part of this is how do you create transparency and the right asset-scoring process?" Gibb said. "We do think it's a scale game in China."
Known as Lufax, Shanghai Lujiazui International Financial Asset Exchange Co. was founded about four years ago and is 49 percent owned by Ping An Insurance (Group) Co. It raised 3 billion yuan ($483 million) by selling stock to overseas investors in a private placement last month. The platform matches borrowers with investors, collecting a 4 percent fee on each loan, Gibb said.
Expanding Businesses
Lufax made about $2.5 billion in new loans last year and isn't profitable because it's spending so much on expansion, Gibb said. The Shanghai-based company is expanding from peer-to-peer lending into other asset classes and is looking to be an "open marketplace for wealth management," he said.
The online-lending market in the U.S. is growing quickly as well, with platforms LendingClub Corp. and OnDeck Capital Inc. completing initial public offerings last year. Policy makers need to develop a regulatory framework for the industry, according to Lawrence Summers, the former Treasury secretary now on LendingClub's board.
"Regulators should strive to put entrants on equal footing with incumbents, but without sacrificing consumer protection," Summers said Wednesday at the Lendit conference in New York, according to prepared remarks posted on his website.
Before it's here, it's on the Bloomberg Terminal.
LEARN MORE