Martin O'Malley Subtly Jabs Hillary Clinton With Marriage Equality Video
The former Maryland governor notes that "history celebrates profiles in courage, not profiles in convenience."
By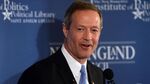 In case anyone forgot, former Maryland Governor Martin O'Malley wants us to know that he's more liberal than Hillary Clinton.
Hours after Hillary Clinton released a statement in support of gay marriage as a constitutional right rather than an issue to be decided by at the state level, O'Malley released a 21 second video in which he says: "History celebrates profiles in courage, not profiles in convenience. The dignity of every person tells us that the right to marry is not a state right, it is a human right." As The New York Times reported, the quote comes from a speech O'Malley gave in February against the politics of "triangulation," a strategy associated with Clintonian centrism. 
During a June 2014 NPR interview Clinton said she thought same-sex marriage was a matter for the states, and entered into a tense exchange with her interviewer Terry Gross over whether she changed her stance on marriage for political reasons.
As governor of Maryland, O'Malley signed a bill legalizing same-sex marriage. When the Supreme Court announced it would hear a case on same-sex marriage in January, O'Malley tweeted his support:
The timing of the video seems to imply that Clinton's Wednesday statement was an act of convenience, not courage—the question is whether history will reward the courageous or the person who has actually declared herself a presidential candidate.