Marc Lasry Seeking to Raise $270,000 in Clinton's First Week
Mary Childs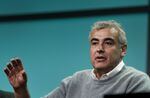 Marc Lasry, co-founder of $13 billion investment firm Avenue Capital Group, is seeking to raise $270,000 in the first week of Hillary Clinton's presidential campaign.
After the former U.S. secretary of state announced her candidacy for president Sunday afternoon, her campaign asked donors and supporters to get 10 friends to give the primary maximum of $2,700 each, for a total of $27,000. So Lasry sent an e-mail to contacts saying he would "love to try to raise 270," he said in a telephone interview. "The big thing here is, let's just get people involved."
Clinton has lifelong relationships with the Democratic Party's top donors, including Lasry, who employed her daughter, Chelsea, at his hedge fund firm from 2006 to 2009. She has already locked up many of the party's biggest underwriters such as billionaire George Soros and Hollywood producer Marcy Carsey. Clinton has raised far more money over her career than any of her 2016 rivals, banking $229 million during her 2008 presidential campaign before conceding to Barack Obama.
"Everybody has seemed pretty excited," Lasry said today. "It's been a long time coming, and now there's a huge amount of excitement behind her. You will start seeing it in the numbers as people start donating."
Under federal regulations, individuals can give as much as $5,400 for Clinton's 2016 campaign, $2,700 earmarked for the primary and $2,700 for the general election.
Stacked Deck
On Tuesday, she criticized executive pay and tax rates for hedge fund managers as she tries to make her commitment to helping struggling Americans the centerpiece of her campaign rollout.
"I think it's fair to say that if you look across the country, the deck is stacked in favor of those already at the top," she said at a roundtable in an auto technology lab at Kirkwood Community College. "There's something wrong when CEOs make 300 times more than the American worker ... There's something wrong when hedge fund managers pay less in taxes than nurses or the truckers I saw on I-80" while driving from New York to Iowa over the past two days.
"Her campaign isn't one about change, but it's one about effecting change," Lasry said.