Gunfire in Donetsk as Rebel Leader Refuses Ukrainian Unity
Stepan Kravchenko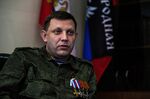 Alexander Zakharchenko, the 39-year-old leader of the self-proclaimed Donetsk People's Republic, says he's been wounded three times in the conflict between his rebel region and Ukraine's government. He's preparing for more war.
The chances of full-scale war are now "very high, 90 percent" after two months of truce, Zakharchenko said in his downtown office, puffing on his third Parliament cigarette of the interview. A disassembled submachine gun lay next to religious icons on a bookshelf. "The enemy is actively preparing for offensive actions, enforcing front line positions."
The "enemy" he referred to is the government of Ukraine, the country his breakaway region belonged to until last year's pro-Russian insurgency muddied the issue. The United Nations says the conflict has claimed more than 6,000 lives. It also plunged Ukraine into economic crisis and brought Russia's relations with the U.S. and allies to a post-Cold War low.
Ukraine is also the country that, under the February cease-fire agreed to by international negotiators in Minsk, will eventually gain back the rebel regions of Donetsk and Luhansk, albeit under special status. While the truce has largely held amid mutual accusations of breaches by the two sides, Zakharchenko remains defiant.
"Nobody wants to come back to Ukraine under any pretext," Zakharchenko says of reunification. "I can't even imagine this happening. Fundamental disagreements between us and Kiev are not disappearing. In fact they become stronger every day."
More Dead
His warning was underscored by a flare-up in violence this week. The Ukrainian government said it lost six soldiers in a single day, the deadliest 24-hour period in at least two months. U.S. and European leaders accuse Russia of supplying the insurgents with weapons, cash and fighters -- charges the Kremlin denies.
"Ukraine remains committed to a peaceful settlement, unlike Russia and Russian terrorists," Ukraine Prime Minister Arseniy Yatsenyuk said Wednesday at the weekly government meeting. "Ukraine is ready to continue implementing the Minsk agreements, including by holding fair and transparent elections."
Fighting Continues
Fighting continued "unabated in the area of the Donetsk Airport," Michael Bociurkiw, spokesman for Organization for Security and Cooperation in Europe monitors in Ukraine, said on Thursday in Kiev. Ukraine's National Security and Defense Council said on Facebook that rebels attacked positions near the Sea of Azov port Mariupol with mortars, tanks and artillery.
The U.S. is seeking to bring Ukraine into its orbit, forcing Russia to respond, Russian Defense Minister Sergei Shoigu said on Thursday. The U.S. "has no moral right" to criticize Russia over the absorption of Crimea after its actions in the 2003 Iraq war. It's trying to contain Russia and frighten neighboring countries into believing that Russia poses a threat, he said.
"The United States and its closest allies have crossed all conceivable boundaries, which couldn't fail to prompt our reaction," Shoigu said.
Russian President Vladimir Putin said the government in Kiev had cut the Donetsk and Luhansk regions, part of an area known as Donbas, "off with their own hand." He blamed Ukrainian President Petro Poroshenko for squandering an opportunity to end the conflict peacefully.
'Liberating' Mariupol
The Ukrainian army has spent much of the cease-fire fortifying the strategic city of Mariupol, which NATO views as a key objective in any rebel bid to create a land bridge from Russia to Crimea, the territory Russia annexed from Ukraine a year ago. The port city, home to half a million people, is the largest government stronghold between separatist-held territory and the Black Sea peninsula.
Zakharchenko said Mariupol will eventually be part of his people's republic.
"We will liberate all our compatriots," he said, adding that he had about 23,000 troops under his control and 30,000 reserves. "It's easy to outflank it and they will surrender. Don't forget, our mothers and our sisters live there, so don't make us out to be bloodthirsty beasts."
Minsk Violation
A Donetsk native and an electrician by training, Zakharchenko before the conflict headed the Donetsk branch of a pro-Russian organization named Oplot, or Bulwark. Its members were among the crowd that kicked off the insurgency by storming government buildings a year ago.
While his desire to take Mariupol and his refusal to reintegrate with Ukraine run counter to the cease-fire, Zakharchenko said his troops won't violate the Minsk accords if there is no "obvious violation" by Ukraine.
"It would be against our nature to show that we don't keep our word," he said.
At night the sound of anti-aircraft guns can be heard in the north of Donetsk, where rebels and government troops exchange mortar and artillery fire near the destroyed airport. Even in the city center, rebel gunners man their stations all night, shooting at what they said were Ukrainian spy drones.
Zakharchenko said insurgents didn't shoot down Malaysian Airline System Bhd. flight MH17 last July, a disaster that the U.S. and allies say was caused by Russia-supplied missiles. Ukraine says the flight, downed over rebel territory, was hit with missiles from a Russian BUK launcher that entered Ukraine from Russia and then returned.
It was before Zakharchenko took over but that didn't stop him from having an opinion.
"It was not us who took it down," he said. "We, sadly, didn't have means to shoot down planes at that altitude."
Under Control
The cease-fire agreement calls for Ukraine to gradually assert more and more authority over the breakaway regions until full control is reached by year-end. Poroshenko last month signed legislation offering special status to the easternmost regions, including elections and self-governance for mainly Russian-speaking areas.
The Russian government and the rebels say the laws fail to comply with the cease-fire's terms and have objected to Ukrainian lawmakers on the same day declaring the breakaway areas "occupied" territory.
As for Russia, Zakharchenko said his region of about 2 million people would like nothing more than to unite with the mother ship.
"We thought, still think and will think of ourselves as a part of the Soviet Union, of Russia," he said.
And who does he talk to in Moscow?
"Let's leave my contacts in a mysterious darkness," he said.
Then he ended the interview. He had to go put a new dressing on his latest wound, a bullet shot into his right leg, he said.
Before it's here, it's on the Bloomberg Terminal.
LEARN MORE