Ellmers Signals Support of Revised Abortion Ban Bill
The revised bill would no longer require rape victims to report the crime to police if they wish to terminate a pregnancy resulting from it.
By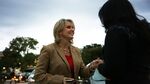 The U.S. House Republican who led a internal party rebellion in January against a late-term abortion-ban bill says she now is "comfortable" with changes in a proposed update because it no longer represents a "re-victimizing" of rape and incest victims.
"I can be in support of it," said Representative Renee Ellmers of North Carolina of the new language in the bill to ban most abortions after 20 weeks of pregnancy.
Ellmers said the new version, as shown to her, would no longer require victims of rape to report the crime to law enforcement if they wish to have a late-term abortion under the law. She said the physician would have to know this was a pregnancy as a result of a rape.
Representative Trent Franks of Arizona, the lead sponsor of the "Pain Capable Unborn Child Protection Act" would not discuss the revised language. But in an interview, he confirmed there are ongoing talks, some changes have been made, and that, "we're getting close."
The decision in January by Speaker John Boehner and other House Republican to abruptly scrap a planned vote on the earlier version was a major legislative embarrassment for the party. It's anticipated passage had been timed to coincide with the anniversary of the 1973 U.S. Supreme Court ruling that legalized abortion.
Instead, Ellmers became the face of an uprising by House Republican women and party centrists who successfully pushed their leadership to drop the bill, arguing that its exceptions for rape and incest were too narrow and that it represented a "war on women."
Word of movement on the abortion bill came Monday when House Majority Leader Kevin McCarthy of California told reporters it was one of three measures previously pulled from planned floor actions—along with border security and education bills—that leaders are now reconsidering bringing back up.
"All three of them" said McCarthy. He did not provide a timeline.
Ellmers, in the interview, said she has not yet been told exactly when the abortion bill will be brought up. But she said new language for the "Pain Capable Unborn Child Protection Act" was brought to her about two weeks ago. 
Chief among the changes, she said, was that it will no longer require rape victims to have reported being assaulted to police to qualify for an exemption from the abortion ban.
"My understanding is the language that was in the bill with the demand it would have to be reported to law enforcement has been removed," said Ellmers. "There is a reporting requirement to the physician—in other words, the physician would have to know that this was a pregnancy as a result of rape."
"Again, the issues that we had had to do with reporting requirements for victims of rape. I felt essentially we were essentially re-victimizing those victims," said Ellmers.
She added that changes also have been made to address language involving victims of incest, including minors. "Which I believe is much needed because we're talking about minors and these are things that would need to be reported. And it's not law enforcement—it's basically again through social services," she said.
Ellmers said that one of the things she is doing this week is talking to other House members who opposed the previous version. Of the revisions, she said, "I want to make sure that everyone feels comfortable with them—or if they have concerns, now is the time to have those discussions."
Ellmers said she is "absolutely" on board with a requirement that physicians be told the pregnancy sought to be terminated was a result of rape, saying that should be done.
"I'm much more comfortable with this new language," she said, calling it "much more thoughtful."