Marco Rubio Pitches Donors as the 'Moneyball' Candidate
The newest 2016er gets off to the money race with fundraisers in Boston, New York, Houston and Dallas.
By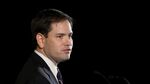 Marco Rubio's presidential campaign slogan, a "New American Century," also serves as his message to donors as he makes the pitch that he's a fresh face in a crowded and expensive Republican primary contest.
The 43-year-old Florida senator, son of Cuban immigrants, is making his presidential case to younger money-raisers who are unencumbered by relationships with the Bush family. He'll also try to woo new economy business leaders in technology and the service sector, two industries that have previously supported him. And his advisers hope he'll get a boost from self-made billionaire donors who admire his boot-strapping life story as detailed in his biography, American Dreams. 
As the newest 2016 presidential candidate following Texas Senator Ted Cruz and Kentucky Senator Rand Paul into the Republican primary contest, Rubio immediately begins the task of paying for his campaign. He'll hold fundraisers in Boston and New York this week, and head to Houston and Dallas next week. A California money push will round out the month, a person close to the campaign said.
George Seay, a Dallas fundraiser and chairman of Annandale Capital, will host the candidate at his home on April 21. He was on hand Monday in Miami as Rubio began his journey on the presidential path.
"The message is great. Strong national defense. Tax reform. Educational reform. Defend and advance the middle class. Economic opportunity," Seay said in an e-mail to Bloomberg on Monday. "But it's not just the message. It's the messenger—self-made, first-generation Cuban-American, with a first-class intellect, work ethic and desire to serve his country humbly and well. It's time for something new and different and next-generational. And he's it in spades."
When Rubio heads to California, he can count on help from Tom Tellefsen, an investor in Los Angeles. Tellefsen was a major fundraiser for 2012 Republican nominee Mitt Romney, his classmate at Harvard. In Virginia, Bob Pence, a real-estate developer and two-time money-bundler for Romney, is ready to help Rubio.
"He expands our Republican horizons while maintaining our underlying principles and values," Tellefsen said in an e-mail Monday to Bloomberg.
Rubio's donor pitch echoes his speech on Monday night in Miami, where he announced his presidential run by portraying Democratic presidential contender Hillary Clinton as yesterday's news and himself as today's ideal candidate. "This election is not just about what laws we will pass," he said, delivering his announcement speech from the Freedom Tower in Miami. "It is a generational choice about what kind of country we will be."
In a private breakfast Monday morning with about 100 donors at the Miami Marriott Biscayne Bay, he played up the yesterday-versus-today contrast.
That theme serves another, more immediate purpose: It allows him to tacitly build a case against his mentor, former Florida Governor Jeb Bush, without mentioning him by name. Bush's father and brother spent 12 years in the White House, and he is expected to announce his own bid in the coming weeks. Bush, 62, has been criss-crossing the country since December, trying to build an early war chest of $100 million or more. 
Out of necessity, Rubio has a different goal. He has hired a small set of specialists in data analytics, digital strategy and messaging, with the aim of doing more with less. Rick Wilson, a Republican strategist with ties to both Bush and Rubio, described it thusly in a National Journal article: "Jeb is building the New York Yankees. Marco is playing Moneyball." It's a reference to the Oakland Athletics' use of statistics to give small-market baseball teams an edge.
"Marco recognizes he can't overcome Jeb's cash advantage," Wilson said in an interview Monday with Bloomberg. "So he is plotting out a path with a tighter more deliberate focus. He will have to leverage data and discipline, rather than throw money at problems."
Rubio also benefits from a list he's cultivated since his 2010 election to the Senate, when he defeated the favored and better-funded former Florida Governor Charlie Crist in the Republican primary.
Reclaim America, the political action committee that the Florida senator has been using fund his nascent presidential ambitions raised about $500,000 in the first three months of this year, a person close to the campaign said. The group is due to disclose its finances by Wednesday night to the Federal Election Commission.
The PAC, which also distributed campaign cash to Rubio's political picks, raised and spent about $4 million in the last two years. A review of its donors shows Rubio has piqued the interest of employees at an array of companies: tech giants Facebook and Google; the for-profit university Full Sail; NextEra Energy, an alternative fuels company; and the International Franchise Association. Other top contributors are Wiley Rein and the Blackstone Group, Washington firms that employ two of Rubio's earliest presidential money-raisers, Scott Weaver and Wayne Berman.
Now that he has officially entered the race, Rubio is on track for a big-money infusion from super-PACS, which can raise unlimited sums from individual donors, companies and unions and spend the money on any candidate, so long as there's no direct coordination. A quartet of super-PACs already claims to have $31 million to help Cruz.
Already in Rubio's corner: Conservative Solutions, a super-PAC run by South Carolina political operative Warren Tompkins. 
Floridians Norman Braman and Jose "Pepe" Fanjul, who is part of a Cuban-born family that made a fortune in the sugar business, are likely players in this big-money arena. Both are supportive of Rubio's presidential run.
"My support will be very, very substantive," Braman, a Miami auto dealer and former owner of the Philadelphia Eagles football team, said in an interview Monday.
"What's happening with Jeb is the same thing that happened to Charlie Crist. All the same people, who are all friends of mine, who are backing Jeb, were the same ones who supported Governor Crist. And they are saying the same thing, which is 'If Jeb wasn't in it, we would be with Marco.'''
"The major difference this time is that while Marco had very, very meager financial resources when he made the decision to run against Crist, today he fortunately has the support to run a first-rate campaign. I'm not the only one.''
—Bill Faries and Michael C. Bender contributed.