politics
Marco Rubio and Rand Paul, at Odds on Iran, Come Together for Sanctions Vote
For the moment, the debate over preconditions for the Iran deal was sidestepped.
By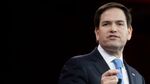 The Senate Foreign Relations Committee's final vote on watered-down Iran sanctions was anti-climatic—a 19-0 show of bipartisanship, following backchannel talks that calmed possible opponents. The debate was so bereft of arguments that a skeptic of harsher sanctions bills, Kentucky Senator Rand Paul, made no statement at all. According to Paul's office, he simply had nothing to add.
That left the brief discussion of the sanctions to more vocal supporters—Florida Senator Marco Rubio in particular. On his first full day as a presidential candidate, Rubio got to hear committee chairman Bob Corker of Tennessee say that he "contributed heavily, especially on the issues related to Israel."
When Rubio's time came, he happily took credit for the controversy over provisions that could render the sanctions impossible to pass. He was not, he said, too concerned with "disturbing the balance of this bill." He had another goal: "I'm disturbed about the destruction of Israel."
Rubio read from tweets and other statements made by Iran's Supreme leader, Ayatollah Khameni. "[Iran] poses an immediate risk to Israel," said Rubio. "You know how I know that? Because the Supreme Leader has said that repeatedly... you don't build ballistic missiles because you want to stage some fancy fireworks show. You build them because you want to attach nuclear weapons."
Yet Rubio did not attach an amendment that would achieve one of his long-term goals: Cajoling Iran into recognizing Israel and abandoning its ambition to destroy the Jewish state. "This is an issue we're going to have to talk about on the floor," Rubio said.
If that happens, it might prove harder for Rubio's presidential rivals—Paul, Ted Cruz, and Lindsey Graham—to sidestep a debate.
Before it's here, it's on the Bloomberg Terminal.
LEARN MORE