Conservatives Regroup on Religious-Freedom Bills
The core issue at stake? What happens when a person's religious convictions conflict with the law.
By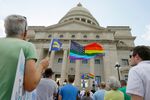 Indiana isn't the only state having trouble with religious freedom legislation. In March, Georgia's Senate approved a religious freedom bill. Like similar laws passed the same month in Arkansas and Indiana, it expanded protections for people claiming to be acting according to their religious beliefs. Some Democrats said the vote was rammed through committee during a bathroom break, but the bill had overwhelming support on the Senate floor, where it passed 37-15. It then ran aground in the Georgia House, where moderate Republicans sided with Democrats and added an anti-discrimination amendment that the legislation's sponsors refused to accept. "The term 'discrimination' is a very elastic thing that can mean a lot of different things to different people," says Republican State Senator Josh McKoon, who sponsored the bill. "It really was going to render the underlying bill meaningless."
On April 2, the legislature adjourned for the year without sending the legislation on to Governor Nathan Deal. McKoon plans to revive his bill when legislators return in January. He says he isn't concerned about provoking the public backlash that prompted Indiana lawmakers to backtrack on their bill. The difference, McKoon says, is that his bill sticks to the language of the Religious Freedom Restoration Act, the 1993 federal law that's inspired 21 state sequels. That law declared the government "should not substantially burden religious exercise without compelling justification." It was meant to offer greater protections for people who felt that obeying certain laws would go against their beliefs, and like many of the early state RFRAs, it passed with overwhelming bipartisan support. "The federal act provides us with a safe harbor," McKoon says. Deal, who voted for the 1993 RFRA as a congressman, has made similar comments. "As close as a state can stay to the original language, the safer you are," Deal told the Atlanta Journal-Constitution on April 3. (Through a spokesperson, Deal declined to comment further.)
Christian conservatives who are pushing RFRAs around the country say they come in two models: the Cadillac and the Rolls-Royce. McKoon's bill, which shields individuals from government intrusion, falls into the Cadillac category. The more ambitious Rolls-Royce versions extend protections for business owners who want to run their companies according to their personal religious beliefs and cover disputes between private parties that don't involve the government. The bill that Indiana Republican Governor Mike Pence signed on March 26, drawing widespread public condemnation from liberal groups and business interests, was a Rolls-Royce. "I think states will have to count the costs of passing a Rolls-Royce version of RFRA because of what happened in Indiana and Arkansas," says Bruce Hausknecht, a judicial analyst for Focus on the Family, the evangelical group. "Everyone recognizes what the Rolls-Royce looks like, but the political differences on the ground in each state necessitate getting done what you can get done."
Through its political advocacy arm, Citizenlink, and 38 state affiliates known as Family Policy Councils, Focus on the Family has been central to bringing RFRA bills to state legislators. Activists have long settled for Cadillac legislation they could get passed, but recent Republican gains in state houses have emboldened them to push for Rolls-Royce bills. Lawmakers passed them last year in Arizona and this year in Indiana and Arkansas.
The bills drew protests from corporations such as Wal-Mart and Apple and from liberal advocacy groups. Arizona Governor Jan Brewer vetoed a Rolls-Royce. Arkansas's Asa Hutchinson refused to sign his state's until it was amended to remove language extending protections to corporations and covering private lawsuits, turning it into a Cadillac. Indiana's Pence initially defended his decision to sign a Rolls-Royce before asking the legislature to add anti-discrimination language.
Some legislators who voted for a Rolls-Royce say they didn't do their homework. Arkansas State Senator Jeremy Hutchinson, the governor's nephew, cast a party-line vote to pass the bill through a committee review. "In that moment I did vote in a cowardly manner and reflexive manner," he says. After studying the text, he tried unsuccessfully to defeat it when it went to the Senate floor on March 27, just as the national debate about the Indiana bill was taking off. With thousands of bills to consider, he says, part-time legislators are "relying on your own research or getting input from outside groups, and that's not ideal."
The core issue at stake in all RFRAs is what happens when a person's religious convictions conflict with the law. The federal act was written in response to a 1990 Supreme Court ruling that a state unemployment commission could penalize Native Americans for using peyote in religious ceremonies. Justice Antonin Scalia found that while the First Amendment protects the free exercise of religion, it doesn't exempt believers from complying with a "valid and neutral law of general applicability." That meant Native Americans wouldn't get a pass on drug laws, just as Quakers have to pay taxes that support the U.S. military. In 1997 the Supreme Court ruled the RFRA covered only the federal government. That prompted states to begin passing their own bills to cover nonfederal agencies.
The spread of same-sex marriage has prompted Citizenlink and allied groups to use RFRA legislation as a way to allow individuals and business owners to deny services to gay and lesbian couples in the name of religious belief. Several high-profile lawsuits involving businesses sued for discriminating against gay couples have helped elevate the issue. When a photography studio tried to use New Mexico's RFRA as a defense for refusing to work for a same-sex couple, a state court rejected the claim because the government wasn't a party to the lawsuit. To some conservatives, that showed the need for Rolls-Royce RFRAs. "I think Christians are beginning to understand, 'Hey, wait a minute: This is not scaremongering,'" says Ed Vitagliano, executive vice president of the American Family Association, which opposes same-sex marriage. "There are real people who thought they had certain freedoms, and they're getting hammered."
The Supreme Court's 2014 Hobby Lobby decision, which found that RFRA protects some business owners who invoke their religious beliefs to deny employees contraceptive coverage in medical insurance plans, gave conservatives confidence to push for Rolls-Royce state laws. "It's a matter of figuring out the political landscape in each state," says Tom Minnery, Citizenlink's chief executive officer and president.
Liberal groups say even Cadillac language like that being pushed in Georgia has the effect of legalizing discrimination. "It's being used as a cudgel by religious majorities to evade the enforcement of civil rights law," says Adam Talbot, a spokesman for the Human Rights Campaign, a national LGBT advocacy organization. The federal RFRA has proven to be a problem in some cases, Talbot says, including one in which a member of the Fundamentalist Church of Jesus Christ of Latter-Day Saints, an extremist sect that split from the Mormon Church, successfully refused to answer some questions in a child-labor investigation.
Georgia State Senator McKoon hopes that, if his bill passes next year, courts will find it covers companies as well as flesh-and-blood human beings, even if it doesn't say so explicitly in the text. "I believe," he says, "that the bill would be read as the federal bill was interpreted by the Hobby Lobby decision."
The bottom line: Public outcry against religious freedom bills in Indiana and Arkansas hasn't deterred conservatives from promoting them.
This story appeared in the April 13—April 19 issue of Businessweek.