Can Rubio Make Helping the Middle Class a Republican Issue?
Rubio's economic approach, if not his specific ideas, gets a warmer reception on the left than from some on the right.
By and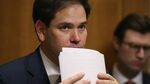 Marco Rubio says he wants to make helping the poor and middle class a Republican issue. It's not clear how much his party wants to do it.