Univision Versus Marco Rubio: Taxonomy of a Feud
From political disagreement to insults.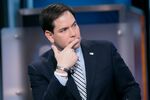 Marco Rubio and Univision, the biggest Spanish-language TV network in the country, both aim to speak to a rising generation of Hispanic-Americans. But, possibly because of ideological differences (Univision's chairman, Saim Saban, is a staunch Democrat, and there are deep disagreements over the issue of immigration) the Florida Senator has had a tumultuous relationship with the network.