Univision Versus Marco Rubio: Taxonomy of a Feud
From political disagreement to insults.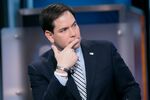 Marco Rubio and Univision, the biggest Spanish-language TV network in the country, both aim to speak to a rising generation of Hispanic-Americans. But, possibly because of ideological differences (Univision's chairman, Saim Saban, is a staunch Democrat, and there are deep disagreements over the issue of immigration) the Florida Senator has had a tumultuous relationship with the network.
Below, a blow-by-blow: 
Summer 2008: Rubio works as a political analyst for Univision during the presidential campaign.
July 5, 2011: Rubio gets a call from his sister who tells him that a Univision reporter has been asking about her husband's 1987 arrest and imprisonment as part of a 1987 drug bust.
July 7, 2011: Rubio's communications director Alex Burgos and political advisor Todd Harris hold a 45-minute conference call with Univision staffers, when president of news Isaac Lee suggested that a planned crime story about Rubio's brother-in-law could be softened or killed if Rubio agreed to appear on the network's Al Punto program. Harris attempts to clarify: "You're saying that if Marco does an interview with Ramos, that you will drop this investigation into his family and the story will never air?" Lee's response: "While there are no guarantees, your understanding of the proposal is fair." (This account was later backed up by a big New Yorker piece in early 2012.)
July 11, 2011: Univision airs story about Rubio's brother-in-law involvement with the 1987 drug bust, publicizing it on Twitter with the hashtags #rubio and #drugs.
October 2, 2011: Rubio is quoted in a Miami Herald story saying that, "I always knew Univision to be a professional organization until this happened." (Letters from Rubio's office to Univision obtained by the paper characterized the story as "tabloid journalism.") Isaac Lee in an e-mail to the paper said the allegations were "defamatory" and that, "with respect to Senator Rubio, Univision covered the story in the same objective, fair manner we cover every significant story. Univision did not offer to soften or spike a story... we would not make such an offer to any other subject of a news story and did not offer it in this case."
October 2011: Several leading Republican presidential candidates announce they are boycotting a scheduled January 29 primary debate hosted by Univision over the allegations in the Miami Herald story.
January 2012: In a New Yorker story about the incident, Univision chairman Haim Saban is quoted saying that, "The fact that Rubio and some Republican Presidential candidates have an anti-Hispanic stand that they don't want to share with our community is understandable but despicable. So 'boycotting' Univision, the largest Spanish-language media company in the U.S., is disingenuous at best and foolish at worst."
June 18, 2012: Rubio sits down with Univision's Jorge Ramos, who opened the Spanish-language interview by saying that, "I understand that in the past, there have been tension between you and Univision's news department, and I appreciate you having agreed to speak with us about absolutely everything." Rubio first mentioned that "as far as I'm concerned, that's all in the past" before going on to describe the 2011 episode as "a black mark in the history of the Univision Network and of Univision News" and complaining that I was upset by the impact that it had on my mother, who had to see it on the news that she watches every night, but, even further, what upset me was that you did not contact me first."
August 2012: A post on Univision's official Facebook account during the Republican National Convention in Tampa singles out Rubio: "Beyond his ideology, Rubio is a mediocre politician who contradicts the values he says he represents. Jeb Bush is more Latino and talented than him." Univision later claimed the comment was unauthorized and deleted it from its Facebook page.
February 6, 2013: Angelica Artiles, executive assistant to Univision's vice president of news, posts scathing remarks on the Rubio spokesman Alex Burgos's Facebook page following the announcement that Rubio would deliver the GOP's first-ever bilingual rebuttal to the State of the Union. "Oh. wow, the loser is going to speak after our President. Anything to get publicity." She also referred to Rubio as "Marquito," a "token slave boy," and a "turd."