politics
Kerry's Pitch on Iran Deal Falls Flat With Skeptics in Congress
Justin Sink, David Lerman and Billy House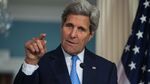 Lawmakers skeptical about an Iran nuclear deal said U.S. Secretary of State John Kerry's plea for more time to complete an agreement did little to dissuade them from insisting that Congress must review any final plan.
After a two-hour private briefing Monday for House members on the Iran deal by Kerry, Treasury Secretary Jacob Lew and Energy Secretary Ernest Moniz, several Republicans said Congress deserves a vote and that many questions about the framework for an accord are unresolved.
"I really am concerned" the deal could let Iran become a nuclear state, said House Armed Services Chairman Mac Thornberry, a Texas Republican. "I think that's a real problem."
The Senate Foreign Relations Committee plans Tuesday to consider legislation that would give Congress the power to review any deal and reject it. The measure may come to a vote in the full Senate as soon as next week.
The agreement framework announced April 2 by the U.S. and five other world powers would curb Iran's ability to enrich uranium in exchange for relief from economic sanctions. They are working toward a final agreement by the end of June. Israel says the plan would threaten its existence.
Representative Chris Stewart of Utah, a Republican on the House Intelligence Committee, said the briefing didn't resolve differences between the U.S. and Iran's interpretations of the framework.
"There's just vast disagreement on what this really means," Stewart said.
Senate Meeting
The three secretaries will hold a similar session for senators Tuesday. The briefings are part of a White House effort to fend off interference from Congress that might thwart negotiations over the next three months on a final deal.
Foreign Relations Chairman Bob Corker, a Tennessee Republican, said the bill he is sponsoring to give Congress a say on any nuclear deal "keeps 100 percent of the integrity of the process relative to the nuclear agreement in place."
Second-ranking Senate Republican John Cornyn of Texas said the Senate may vote on Corker's bill, S. 615, next week.
House Majority Leader Kevin McCarthy, a California Republican, said if the Senate passes that measure, the House of Representatives will take it up and can pass it with "high numbers."
The administration has said Obama would veto the Iran legislation as it's now written. The strategy has been to seek modifications or to keep enough Democrats from defecting in order to prevent Congress from overriding a veto.
High Stakes
Before meeting privately with House members, Kerry told reporters, "We hope Congress will listen carefully and ask the questions that it wants, but also give us the space and the time to complete a very difficult task which has high stakes for our country."
Lawmakers who spoke to reporters after the briefing suggested Kerry's pitch fell flat.
"I hope we can pass it," Thornberry said of Corker's bill requiring a congressional vote. "That's about the constitutional prerogatives of Congress."
While lawmakers want to move cautiously, Stewart said, "It serves our security better when Congress is involved."
Representative Steve Israel of New York, a member of the House Democratic leadership, also expressed support for Corker's bill.
Congressional Oversight
"I support the principle of congressional oversight and a congressional vote for or against, up or down, approve or disapprove, the substance of this deal," Israel said.
White House press secretary Josh Earnest said Obama is making a case that the deal is in the best interest of the U.S. and Israel. The president held two meetings at the White House on Monday with with the leaders of American Jewish organizations and with Jewish political supporters.
"They're definitely trying to sell," said Nathan Diament, executive director for public policy at the Union of Orthodox Congregations of America, one of the groups meeting with Obama that has expressed concerns over whether agreed-to limits on Iran's nuclear program can be verified and enforced.
"He's trying to convince the leadership of the Jewish community that this is a good deal and that not only should we be supporting the deal, but we should not be supporting initiatives on Capitol Hill that the president views as potentially torpedoing the deal," Diament said.
The American Jewish Committee, J Street and the Anti-Defamation League confirmed they were among the groups attending the first session. White House National Security Adviser Susan Rice was to join Obama for that meeting.
Diament said he participated in a meeting last week with Kerry that was conversational, allowing for give and take and for critics to air concerns.
'Calling the Shots'
"I would not say their answers unilaterally persuaded everybody," he said, while adding that it's important for Obama to engage directly because "he's the one calling the shots." He said his group has serious concerns.
"The president's whole logic of whether this is a good deal rises or falls on whether the inspections regime is as comprehensive and intrusive as he says it is," he said. "At the moment the inspections regime does not seem to be very thorough."
The U.S.'s five negotiating partners are France, Germany, the U.K., Russia and China.
Earnest said Corker's proposed legislation would make it impossible to implement the deal.
"We are at the beginning of the process of helping members of Congress understand what commitments Iran has made so far," Earnest said.
Presidential Campaign
The deal is being debated at the same time as the 2016 presidential campaign is getting under way. Three announced candidates, Rand Paul of Kentucky, Ted Cruz of Texas and Marco Rubio of Florida, are among 47 Senate Republicans who signed a letter to Iran's leaders last month warning that Congress may undo any deal that Obama strikes.
Democrat Hillary Clinton, who formally announced her bid for the Democratic nomination on Sunday, has slammed the Republican senators who joined in the letter, saying they were undermining U.S. foreign policy. Clinton, who was Obama's first secretary of state, is being attacked in turn by Republicans, who are aiming to tie her to Obama's policies.
The deal with Iran is hardly set. Earnest said critical details still need to be negotiated. "It's by no means a forgone conclusion," he said.
Political Framework
U.S and Iranian officials have been publicly sparring over the terms of the political framework, offering competing fact sheets about the details that must be settled to produce a deal that confines Iran's nuclear work to civilian purposes.
Kerry, who appeared on Sunday news shows to urge patience, has talked about economic sanctions being lifted in phases as international inspectors verify compliance. Ayatollah Ali Khamenei said sanctions would need to be lifted upon the accord's signing and that Iranian military facilities would stay off-limits to inspectors.
At a news conference on Saturday, Obama said, "it's not surprising to me that the Supreme Leader or a whole bunch of other people are going to try to characterize the deal in a way that protects their political position. But I know what was discussed in arriving at the political agreement."
Before it's here, it's on the Bloomberg Terminal.
LEARN MORE