Marco Rubio Seeks Contrast With Hillary Clinton as He Announces Presidential Run
She's old news, the Florida Republican tells supporters ahead of his announcement rally.
By and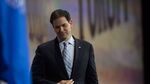 Hours before he was set to announce his 2016 presidential bid at a public rally on Monday, U.S. Senator Marco Rubio told his donors: I'm in, and Hillary Clinton is old news.
The Florida Republican confirmed his plans to seek the White House in a series of donor meetings on Monday, including breakfast with about 100 contributors at a Miami hotel and a call to other financial backers later in the morning, according to people with knowledge of his comments.
While Clinton's announcement a day earlier diverted some media attention away from Rubio's plans, his team says her move helps him create a contrast of yesterday and today. The campaign's slogan is "A New American Century," according to videos and photos released by Rubio's organization. 
Rubio opened the breakfast at the Miami Marriott Biscayne Bay by joking to donors that he changed his mind the night before—and decided to wear a blue tie, according to one donor who was present and requested anonymity to speak about the private meeting. There was no explicit mention of Rubio's fellow Floridian, former Governor Jeb Bush, who is considering his own campaign, the donor said.
Rubio planned to meet with his staff for lunch to go over detailed campaign plans, according to the donor. His speech was scheduled to begin around 6 p.m. as Special Report with Bret Baier begins on Fox News. Rubio previewed some of the themes of his speech in a video released last week that relied on clips of him speaking about the story of his parents, who immigrated from Cuba and raised their children while working as a bartender and hotel maid.
After the speech, he has a busy itinerary. Interviews were set to air on Fox News's Hannity program, ABC's Good Morning America and NPR's Morning Edition. He planned to return to Washington Monday night for a Senate Foreign Relations Committee hearing on nuclear negotiations with Iran before turning to focus on campaign events, including fundraisers in Boston and New York this week and political events in New Hampshire and Iowa, said the donor.
More than 3,500 people sought tickets to Rubio's event from every state but Vermont, said spokesman Alex Conant, who declined to comment on the details shared by the donor. The space can only accommodate about 1,000 people, so Rubio's team created an overflow area across the street and was set to use a a Jumbotron to show the speech. Attendees were set to get "Marco" signs. And the media frenzy was expected to be intense: More than 190 journalists requested credentials from over 65 outlets, Conant said.