Chinese Painter Cui Sets Record With $30 Million Landscape Work
Frederik Balfour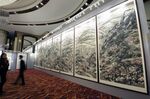 An eight-panel series of paintings by Cui Ruzhuo sold for HK$236 million ($30 million) at Poly Auction Hong Kong, setting an auction record for a living Asian artist.
"The Grand Snowing Mountainous Jiangnan Landscape," completed in 2013, sold on April 7 and broke the previous record of HK$185 million also set by Cui at Poly Hong Kong in April 2014, the auction house said in a press release.
Another one of Cui's paintings, which sold for $HK29 million at the auction last year, was mistakenly taken away with the trash after the event at the Grand Hyatt Hotel and never recovered. Apart from that incident, Cui is little known outside China, where works by contemporary ink painters are popular gifts to corporations and government officials.
"There is certainly an interest in creating a public price level for his artworks, and this appears to be at a price level not really for experienced collectors," said Johnson Chang, who has been dealing in contemporary Chinese art for 30 years. "This sounds quite unbelievable."
Each of the eight panels is painted with ink and color on paper and measures 292 centimeters (115 inches) by 143 centimeters.
Beijing-based Poly Culture Group Corp., which runs China's largest auction house, is controlled by China Poly Group Corp., a state-owned conglomerate started by the military 23 years ago.
In an effort to compete internationally with Sotheby's and Christie's, Poly began holding auctions in Hong Kong in 2012 and listed there in 2014.
Before it's here, it's on the Bloomberg Terminal.
LEARN MORE