After Historic Cuba Meeting, Obama Has Hurdle of Delivering
Angela Greiling Keane, Raymond Colitt and Toluse Olorunnipa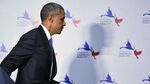 President Barack Obama, returning to Washington after a historic meeting Saturday with Cuban President Raul Castro, now faces the difficult work of tearing down bureaucratic barriers built up over five decades.
First on the agenda will be determining whether to remove Cuba from a list of state sponsors of terrorism, after the State Department sent its recommendation to the White House last week. Obama also promised to work toward reopening embassies and convincing Congress to peel back sanctions against the Communist island first put in place during President Dwight D. Eisenhower's administration.
"We'll continue to work toward reestablishing diplomatic relations, reopening embassies in Havana and Washington, and encouraging greater contacts and commerce and exchanges between our citizens," Obama said Saturday during a news conference at the Summit of the Americas in Panama.
The meeting by Obama and Castro won praise from leaders across the political spectrum in Latin America, who said the U.S. president was ending a final vestige of the Cold War. Yet U.S. moves last month to sanction Venezuelan officials for human-rights abuses, in which the country was called a threat to national security, undermined some of that support.
"The tensions between the U.S. and Venezuela make it difficult to create the climate of dialogue and depolarization of policies that is needed in our region," Dominican Republic President Danilo Medina Sanchez said in comments echoed by the leaders of Brazil, Bolivia and Argentina, among others.
Slow Change
With no major policy announcements marking the most extensive interaction between the U.S. and Cuban presidents in more than 50 years, both Obama and Castro cautioned that future changes -- even removing Cuba from the U.S. list of terrorism sponsors -- may come slowly.
"We are willing to discuss everything, but we need to be patient -- very patient," Castro, 83, said Saturday through a translator, while seated next to Obama. "Some things we will agree on; others we will disagree."
White House spokesman Josh Earnest told reporters Monday in Washington to "expect a decision in the coming days" about Cuba's designation as a sponsor of terrorism, which has been place since 1982.
Castro, who said Saturday that Cuba should never have been placed on the list, said several sticking points remain between the countries -- some of which won't be resolved.
"But when I say that I agreed with everything the president just said, I include that we agree to disagree," Castro said.
45 Days
Obama will make a decision on the terrorism designation in the near future, then he will notify Congress, which would have 45 days to respond, according to a senior administration official at the meeting.
Obama could try to extract concessions from Castro on human rights in exchange for delisting Cuba, said Chris Sabatini, a Latin America specialist who teaches international affairs at New York's Columbia University.
"Raul needs Cuba to be taken off the state sponsors of terrorism list," Sabatini said. "It's a national humiliation."
'Honest Man'
Speaking at his first Summit of the Americas since they began in 1994, Castro called Obama an "honest man" and joked that, as Cuba's leader, he should get to speak six times longer than anyone else since the nation has been blocked from that many gatherings. Obama, he said, can't be blamed for policies against Cuba put in place by 10 previous presidents. He went on to recount 200 years of Cuban history, including repeated "interferences" by successive U.S. governments.
Obama, saying he wasn't interested in fighting battles that started "before I was born," urged the assembled leaders to get past ideological differences and focus on the future.
"I'm optimistic that we will continue to make progress and this can and will be a turning point" not only with Cuba but across the region, Obama said.
Several sticking points remain as the governments work to set up embassies and fully restore diplomatic relations. Castro has called for the U.S. to return the military base at Guantanamo and end the half-century trade embargo against Cuba, which was imposed by Congress and must be rescinded by lawmakers. The two countries are also at odds over how many embassy staff will be allowed to be stationed in Havana and how freely they'll be able to travel within the country.