Yemen's Hadi Names Popular Politician as Vice President
Mohammed Hatem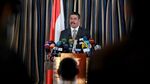 Yemeni President Abdurabuh Mansur Hadi appointed as his deputy a politician who was once touted by the country's Houthi rebels as an acceptable replacement to the Saudi-backed leader.
Hadi, now based in Saudi Arabia after fleeing Yemen last month, appointed Khaled Bahah as vice president and reinstated him as prime minister, according to a decree received by e-mail. The rebels rejected the appoint of Bahah, who resigned as premier in January as talks with the Shiite group and its allies unraveled.
The move comes as a Saudi-led coalition of predominantly Sunni nations continues to bomb targets under the control of Houthi fighters and their allies. The alliance is attempting to restore Hadi's government and force the Shiite group to resume talks. During months of United Nations-brokered talks that ended in late March, the Houthis suggested that Bahah lead a transitional presidential council to resolve the crisis.
Hadi's appointment "is not legitimate," Houthi spokesman Mohammed Abdulsalam said on his Facebook page. "Anything related to political affairs in the country should be based on internal dialogue and an agreement between political forces."
Political turmoil has driven Yemen to the brink of disintegration and allowed al-Qaeda to flourish within striking range of neighboring Saudi Arabia, the world's top oil exporter. The Houthis, who say they have been marginalized by the central government for decades, took over most of Yemen's capital, Sana'a, and other cities in September and have advanced into further into the country since then.
Hadi fled Sana'a to the southern port of Aden. He later took refuge in Riyadh after his forces crumbled in the face of Houthi gunmen and troops loyal to former President Ali Abdullah Saleh, himself once an ally of Saudi Arabia. Bahah left Sana'a after the Houthis lifted his house arrest in March and arrived in Saudi Arabia last week.
Houthi officials have said they were willing to resume talks if the Saudi-led bombing stopped and a neutral party sponsored the talks. The group, though, said it won't accept Hadi's return to power.
Soldiers Killed
The three-week conflict has started to spill into Saudi Arabia. Houthi gunmen fired mortar shells on a Saudi border site in the Najran province Friday, killing the three soldiers and wounding two others, the official Saudi Press Agency reported Saturday, citing a Defense Ministry official it didn't identify.
The incident brings to six the number of Saudi military personnel killed since the kingdom launched airstrikes against the Houthis and their allies last month.
Saudi Arabia strengthened its military positions along its 1,100-mile (1,770-kilometer) frontier with Yemen as the coalition bombing campaign started against the Houthis. Soldiers monitor rebel positions from hilltop outposts to guard against attacks. The terrain makes it difficult to prevent cross-border strikes by the Houthis, who have fired on Saudi positions from mountainous areas inside Yemen.
Saudi Arabia and its Gulf Arab allies accuse Shiite-led Iran of supporting the Houthis to boost the Islamic Republic's regional influence.
"Iran is interfering in Yemen," Saudi Foreign Minister Prince Saud al-Faisal said at a news conference in Riyadh Sunday. "Iran doesn't do anything in Yemen apart from worsening the problem and the violence."
Iran Supreme Leader Ayatollah Ali Khamenei has denied his country's involvement in Yemen's conflict, instead accusing Saudi Arabia of committing a "genocide."
Before it's here, it's on the Bloomberg Terminal.
LEARN MORE