Hillary Clinton's Foreign Policy Legacy
Leslie Gelb of the Council on Foreign Relations dissects Clinton's tenure as secretary of state.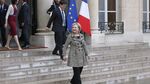 From an April 10, 2015 telephone interview with Leslie Gelb of the Council on Foreign Relations.
Bloomberg Politics: What will be Hillary Clinton's legacy as secretary of state?
Leslie Gelb: I think her legacy is mainly on the issues of women's and humanitarian rights and on global warming. These are the questions she spoke to mostly and I think she spent probably more time on them than on anything else. On climate change and global warming, there are many nations that have agreed to take tougher stances on polluting the atmosphere and contributing to warming. It's a slow process, but there was progress. And on humanitarian issues and women's rights, I think she raised consciousness, some places laws were improved, but it's still a very hard and dangerous situation.
BP: What was her single biggest failure or weakness?
L.G.: I don't think she had a big failure. And in these times, alas, that's a big plus. The Republicans try to make a big issue of Benghazi. It was a non-issue, it really was. She had no ill involvement in that at all. It was circumstance and there was no way to really save those people we had there—most of them were CIA operatives, in fact. And she didn't tell our ambassador not to go there, he wanted to go there and it was his presence there that I think kicked it off. She didn't make any major mistakes.
BP: Looking back on the great secretaries of state in history, how does Hillary Clinton compare?
L.G.: The truly great ones were people like Dean Acheson, James Baker, George Shultz I think did a very good job, Henry Kissinger on a number of major issues did a very good job. That's the first rank. She's probably in the second tier. The first tier were great strategists and they had the skill and will to implement those strategies. And it just wasn't clear what Secretary of State Clinton could do, what freedom of action she had in a rather personal and centralized administration, how much leeway she had to really develop issues on her own as opposed to President Obama's own decisions and own freedom of action.