politics
Hillary Clinton Can 'Really Hold Her Liquor,' and Other Testimonials of GOP Admiration
Prepared for a left-wing monster, Hillary Clinton's cross-aisle colleagues found a surprisingly convivial collaborator.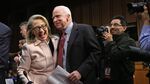 As first lady, Hillary Clinton personified the American left for the GOP, and as such inspired intense vitriol. As she campaigned for the Senate in 2000, many wondered what kind of combustion would occur if she were elected and shared a chamber with some of her most passionate critics. What happened was more like a lovefest, as many former enemies professed their admiration. 
At a National Prayer Breakfast in the spring of 2001, Senator Sam Brownback of Kansas got up to speak when he noticed Hillary Clinton. "I came here today prepared to share about this experience in my life that has caused great suffering, the result of which has deepened my faith," Brownback said, according to an individual present at the meeting who later spoke with Joshua Green, then at the Atlantic. "But I'm overcome now with only one thought." As Green reports, "He confessed to having hated Clinton and having said derogatory things about her. Through God, he now recognized his sin. Then he turned to her and asked, 'Mrs. Clinton, will you forgive me?' Clinton replied that she would, and that she appreciated the apology. 'It was an extraordinary moment,' the member told me."
In Time's 2006 "100 Most Influential People" issue, South Carolina Senator Lindsey Graham contributed the blurb about Hillary Clinton, writing: "In the Senate, a small body of big egos, Senator Clinton, 58, is sought out by her colleagues to form legislative partnerships. Her high-profile status, combined with a reputation as a smart, prepared, serious senator, creates real influence. In a short time, this blue-state senator with a blue-state perspective has managed to build unusual political alliances on a variety of issues with Republicans Bill Frist, Sam Brownback, Elizabeth Dole, Rick Santorum and other conservatives." As recently as this month, while appearing on "Face the Nation" to discuss the White House's negotiations with Iran, Graham gave her a compliment of sorts when he said that, "The best deal, I think, comes with a new president. Hillary Clinton would do better."
After Clinton won her 2000 election to be senator from New York, then-Senate Majority Leader Trent Lott mused that "maybe lightning will strike" and keep Hillary Clinton from joining the Senate. Lott was quoted two years later by the New Yorker's Elizabeth Kolbert as saying that "I think she's doing fine. I think she's trying to dig in and do her homework, trying to lower her profile a little bit." 
In July 2007, when Clinton, then a member of the Senate Armed Services Committee, agreed to let Virginia Senator John Warner finish his questioning of yet-to-be-confirmed Joint Chiefs Chair Mike Mullen, Warner heaped some praise on her: "Senator Clinton, may I thank you for that courtesy? You know, the many years that you've been on this committee, that's the hallmark of your service. Courtesy and respect. And you've been a good strong working partner through the years."
During a congressional trip to Estonia in 2004, the New York Times reported that Hillary Clinton initiated a vodka-drinking contest with Graham, Arizona Senator John McCain, and Maine Senator Susan Collins. "She can really hold her liquor," McCain later told Green. When asked to comment, Clinton spokesman Philippe Reines told the Times: "What happens in Estonia stays in Estonia."
In 2006, McCain told Meet the Press that "I happen to be a Republican and would support, obviously, a Republican nominee, but I have no doubt that Senator Clinton would make a good president."
New York Representative Peter King, speaking to the New Yorker in October of 2003: "When she goes to meetings—you know, we have New York delegation meetings—she just sits there, the same as anybody else. She's not trying to jump out front and grab an issue from you, because she knows she's going to get the coverage anyway. Now, that may sound almost self-evident: Of course Hillary Clinton can get her face in the paper. But the thing is, a lot of people, no matter how much publicity they get, they still don't have the confidence to know they can get it."
Before it's here, it's on the Bloomberg Terminal.
LEARN MORE