Bashir Seen Winning Sudan Re-Election as Opposition Split
Bassem Abo Alabass Mohammed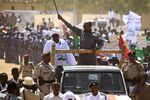 A war crimes indictment and a role in the dismembering of a united Sudan aren't hindering President Umar al-Bashir's chances at re-election, according to analysts who say he's certain to win the three-day vote that started Monday.
Polling stations in the North African nation opened at 8 a.m. local time and the government has declared a national holiday to encourage participation, election official al-Hadi Mohamed Ahmed said by phone from the capital, Khartoum.
"I think there is about zero percent chance for anyone running for president" against al-Bashir, said Harry Verhoeven, a professor of government at Georgetown University in Washington and a specialist on the Horn of Africa region.
With Sudan's major opposition parties refusing to field candidates and some calling for a boycott, it's been left to 15 disparate figures, few of them well-known, to compete against the 71-year-old incumbent who has ruled the country for a quarter-century. Their candidacies show how limited the space for substantial political disagreement has become since the south's secession in 2011.
While 2010's general elections were "genuinely exciting and important," with participants including a former prime minister and two ex-rebel leaders, the current campaign has prompted "very little meaningful discussion," Verhoeven said in a phone interview.
Rather than fizzing with debate on Sudan's future, newspapers in Khartoum have given front-page space to stories such as presidential candidate Abdel-Mahmoud Abdel-Gaber's battle with the electoral board to use a lightbulb as his symbol on ballot papers.
Lightbulb Controversy
The authorities' insistence on a black-and-white emblem for easier printing -- and the 46-year-old newspaper columnist's threat to pull out of the elections if he doesn't get his way -- have received more coverage than his stated policies of trimming the powers of Sudan's security services, boosting agriculture and limiting immigration to preserve jobs for Sudanese.
"The opposition has been divided and remains very weakened and fragmented," Verhoeven said. "The boycotting of course is undermining the legitimacy of elections that Bashir claims, but it is something that Bashir can sleep over."
Al-Bashir's campaign has focused on a pledge to restore peace to the country, which is battling rebellions in at least six of its 18 states. He's also vowed to rejuvenate Sudan's economy, still reeling from the loss of three-quarters of its oil reserves to South Sudan.
Election Mobilization
The International Criminal Court has indicted al-Bashir for alleged war crimes in the western Sudanese region of Darfur, where an insurgency has raged for more than a decade. In December, the court said it would "hibernate investigative activities" in Darfur and shift resources to "other urgent cases."
"The point of the elections is showing mobilization for the ruling party, not for competition," said Magdi El-Gizouli, a fellow at the Rift Valley Institute, a Nairobi-based research group. A race featuring opponents to al-Bashir vetted by the election commission and with little popular support represents the National Congress Party's "democracy style," he said.
The European Union last week said the elections "cannot produce a credible result with legitimacy throughout the country." The 28-nation bloc has chosen "not to engage in support" of the vote, foreign policy chief Federica Mogherini said.
'Meaningless Election'
Tarek Nour, who works in sales and marketing in Khartoum, says the absence of viable candidates makes the presidential vote "meaningless."
"From my colleagues and friends, the al-Bashir supporters will go to vote," the 21-year-old said by phone from the capital. "But even if someone doesn't want him in office for another term they won't go to choose another candidate."
About 13.5 million people have registered for the polls, according to the National Election Commission. Sudan's population is about 35.5 million, 41 percent of whom are under the age of 15.
Only about a third of those registered may actually cast ballots, Verhoeven said. NEC head Mokhtar al-Assam said his organization was neutral in the election and allowed all viable candidates to stand.
"It isn't the NEC's mission to introduce the candidates to the voters," he said by phone. "It's the candidate's role to prove that he deserves to be president."
Media Coverage
Al-Bashir came to power in 1989 following a coup that ousted elected Prime Minister Sadig al-Mahdi and muzzled the press, outlawed other political parties and implemented Islamic-inspired social reforms. Appointed civilian president in 1993, he was re-elected in 2010 in a vote whose credibility was questioned by international observers including the EU.
Al-Bashir's opponents say they are finding it difficult to compete with the NCP's campaign machine and the incumbent's ubiquity in local press and television coverage.
"The media has failed a bit to cover all the candidates' campaigns," said Fatima Abdel-Mahmoud, the only female nominee. "Poor financial resources are a problem for most of the candidates," the 70-year-old leader of the Sudanese Socialist Democratic Union said in a phone interview.
Mohammed al-Hassan, a businessman who represents the National Reform Party, has the most ambitious agenda of al-Bashir's competitors. A dual U.S.-Sudanese national, he's pledged that within 100 days of being elected he'll negotiate the lifting of sanctions the U.S. imposed in the late 1990s because of alleged sponsorship of terrorism.
'New Faces'
"Al-Bashir has been practicing all forms of oppression and repression and that's why people can't imagine a new president but him," al-Hassan said in a phone interview from Khartoum. "I see a very big chance to change the current regime as people want new faces."
Most of the familiar faces are staying out. Al-Mahdi's Umma Party, the biggest registered opposition group, is boycotting both presidential and parliamentary votes. The National Consensus Forces, a coalition of opposition groups, in February began a nationwide campaign to urge a boycott and collect signatures to demand a change of government.
The NCF on Monday said at least 15 political activists have been detained over the past two days. Hamed Momtaz, political secretary of the NCP, said authorities had arrested individuals seeking to interrupt the vote, without giving further details.
"Anyone who runs for the presidency in the next elections is a fool," al-Mahdi said in January in an interview in Cairo, where he remains. "No one who is respectable should join this false race."
Before it's here, it's on the Bloomberg Terminal.
LEARN MORE