Rand Paul Talks Drug War, NSA, and Land Rights in Libertarian-Friendly Nevada
One of the Paul movement's strongholds turns out to end his tour.
By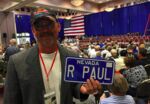 LAS VEGAS -- Everywhere he's gone this week, Kentucky Senator Rand Paul has referenced the "enterprise zones" he has proposed to create tax havens for blighted communities. In Nevada, for the first time, the mention of a wonky program devised for inner cities and Appalachia got a "woo-hoo!"
Paul paused, upon hearing this exclamation. "You like that!" he said, seeking out the superfan in his crowd. The senator was wrapping up his five-state tour of early primary states in one of the most fertile fields of the "liberty movement." The event center of the Desert Vista community, a strongly conservative suburb of Las Vegas, was filled to capacity; rows of chairs for some older supporters ringed the stage, and younger people (or late arrivals) stood all the way back to the walls.
Edward Waldron, the 28-year old U-Haul assistant manager who'd cheered for enterprise zones, is among the libertarian-minded voters who make Nevada so tempting for Paul. His father's campaign performed strongly in the state twice. In 2008, Ron Paul's 13.7 percent of the caucus vote was good enough for second place. In the more competitive 2012 caucuses, Ron Paul won 18.7 percent, taking the sparsely populated rural counties of Nye and Esmerelda. And when Nevada Republicans met to affirm their presidential votes at later caucuses, Paul supporters dominated, sending a pro-Paul slate to the Republican convention.
That grassroots support could be key to Rand Paul's 2016 campaign. On Saturday, Paul was introduced not by a legislator but by Daphne Lee, a woman who in 2013 had given a public comment to the Clark County commission, asking it to prohibit any local law enforcement from cooperating with the National Defense Authorization Act. "You cannot apply the laws of war to this country and expect the Bill of Rights to be upheld!" she said then. That speech went viral and helped launch People Against the National Defense Authorization, or PANDA.
"I have been honored by all the support from liberty-loving activists across our state," said Lee Saturday, "but we still need more help. We need help from a new president."
When Paul took the stage, clad in a bright orange shirt, he started in on a new riff about how many words were in the regulations that no Americans got the chance to vote on.
"God only knows how many words have been written to distinguish the greater prairie chicken from the lesser prairie chicken," said Paul. "Anybody think that Nevada needs more federal regulations on your land? Anybody think you might do a better job of managing the land?"
Paul hit most libertarian themes of his announcement-week speech. He was more intense this time, as if the Nevada audience was more primed for an uncomfortable conversation about the state run amok.
"Go meet people who live in poverty, and ask them why their sons all seem to be incarcerated or killed," he said. "The war on drugs has created a culture of violence and put police in an impossible situation. Three out of four people in jail for drug crimes are people of color, but if you look at the statistics, white people are using drugs at the same rate. We have somehow snatched up so many people of one race that it is now unfair, and we should do something to make it fair.
Paul's audience — largely white, as has been the case in every state — broke into loud cheers. It did the same after Paul mentioned the case of Eric Garner. "If a guy is selling loose cigarettes and not paying the king's ransom in taxes, couldn't we give him a ticket?"
The concerns of Nevada's libertarians can veer toward topics that presidential candidates might want to shy away from. In conversations before and after the speech, some of them worried that the federal government was seizing land in order to hand it over to China; one man wore a T-shirt with the slogan "If the troops defended freedom, they'd attack the government." He'd bought it from the website of Adam Kokesh, a "voluntaryist" (more than libertarian) TV and radio host who'd been jailed (then freed) after cocking a weapon in Washington to flout the city's gun laws.
Paul's speech focused on more immediate and mainstream worries about the state. His biggest applause came when he condemned the mass collection of data.
"The president created this vast dragnet by executive order — not the first time he's done that," said Paul. "As president on day one, I will immediately end this unconstitutional program."
"That's right!" yelled Edward Waldron. "Absolutely! That's right!"