business
Ken Prewitt, Bloomberg Radio 'Authoritative' Voice, Dies
Stephen Miller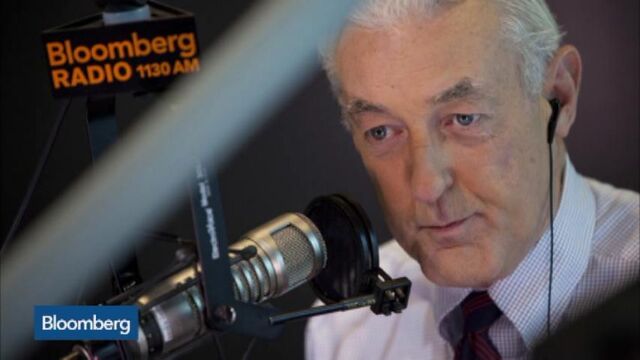 Ken Prewitt, a Bloomberg Radio anchor who interviewed billionaire investors, Wall Street executives and a former Federal Reserve chairman in a news career with jobs at CBS and ABC television, has died. He was 68.
He died Saturday at his home in Manhattan, according to his wife, Faye Prewitt. He had been diagnosed with brain cancer in 2012 and went on leave the following year.
Tall, lean and white-haired, Prewitt was the daily host of Bloomberg Radio's "The First Word" show at 5 a.m. in New York, covering economic, business and market news, and co-hosted "Bloomberg Surveillance" at 7 a.m., focusing on interviews and analysis, and "Bloomberg Businessweek Radio," a weekend program of features.
"There was something very reassuring about Ken's delivery on the radio," Michael Bloomberg, founder, chief executive officer and majority shareholder of Bloomberg LP, owner of Bloomberg News, said in an e-mail. "He was authoritative and knowledgeable and just as much a part of our morning routine as having breakfast or getting a cup of coffee."
From his start at New York-based Bloomberg in 2005, Prewitt interviewed newsmakers including former Federal Reserve Chairman Alan Greenspan, Texas billionaire investor T. Boone Pickens, and Major League Baseball Hall of Famer Reggie Jackson.
Michael Holland, chairman of Holland & Co., a New York-based investment management firm that oversees more than $4 billion, was a frequent guest on Prewitt's Bloomberg shows and said he was a fan before the newsman ever interviewed him.
Good Reporter
"He was a total pro and never seemed to make a mistake," Holland said in a telephone interview. "I loved how he would tweak Tom Keene," Prewitt's co-host on "Bloomberg Surveillance."
Abby Joseph Cohen, president of global markets at Goldman Sachs Group Inc., said in a telephone interview that Prewitt as a reporter "asked tough but reasonable questions."
His Bloomberg colleagues remember him as a nattily dressed, unflappable broadcaster with a mischievous streak. Whenever General Mills Co. released its earnings, he turned in the studio to Bloomberg Radio reporter Vonnie Quinn, a native of Ireland with a noticeable brogue.
"Every quarter he would gleefully say, 'And what is General Mills known for?' and wait for me to say, 'Lucky Charms, Ken,'" Quinn said in an interview.
Economic Analysis
Prewitt used his own metrics to bolster his reports on the U.S. economy, according to John Tucker, a fellow Bloomberg anchor. "Ken's tie economic indicator" held that increased necktie sales presaged bad times because buying a new cravat is a way for men to freshen their look without purchasing a more costly suit.
"The thing about Ken was he knew what he was talking about," fellow anchor Michael McKee said Monday in a Bloomberg Television segment. "He had done business news for years. But he didn't get into the minutia. He remembered the viewer, he remembered the listener, the person who didn't know as much."
His shows were heard over the network's broadcast on the SiriusXM satellite service in the U.S., WBBR-AM 1130 in New York, and mobile devices and the Internet worldwide.
Kenneth Bernard Prewitt was born on Dec. 14, 1946, in Washington, D.C. His father was Jouett Bernard Prewitt, secretary-treasurer with the International Brotherhood of Bookbinders, a trade union. His mother was the former Pauline Joyner, a homemaker. His father died when he was 5. After his mother remarried, Prewitt moved with her to Sparta, North Carolina, where he spent the remainder of his childhood.
Vehicle Choice
After graduating from Sparta High School in 1963, Prewitt enrolled at the University of North Carolina at Chapel Hill. There, his prankishness led him to buy a used hearse for getting around, according to his sister, Paula Prewitt. He also became a lifelong Tar Heels fan.
He made his first foray into radio in Chapel Hill, then moved to a Winston-Salem, North Carolina, station, his sister said in a telephone interview. In 1975, Prewitt joined the staff of WERE, a Cleveland radio station that had recently gone to an all-news format, according to an article in Variety.
One day, the Cleveland station fired most of the staff and his duties were expanded to help fill airtime, according to Ray Hoffman, a WERE co-worker who is now a reporter at WCBS radio in New York.
"Ken Prewitt's midday news shift suddenly became a talk show," Hoffman said in an e-mail. "He didn't miss a step."
Career Moves
In 1981, Prewitt took a radio job at the Wall Street Journal in New York. The new location meant he had to marry his long-time girlfriend, Faye Pappas, if he wanted to bring her along, she said in a telephone interview. They married within days of the job offer. After a few months at the Journal, he moved to Money magazine where his radio news capsules were syndicated nationally.
Prewitt's first job in network television was as a business reporter on the "CBS Morning News" in 1983, where he alternated with economics reporter Robert Krulwich. In 1985, the Associated Press contrasted Krulwich's graphic demonstrations of corporate takeovers using inflatable whales with Prewitt's "elitist, crystal-ball musings about Wall Street."
In 1988, he moved to ABC as a reporter covering business and economics.
A Formula 1 racing fan, most of Prewitt's driving was done commuting to his vacation home in the Berkshires of Massachusetts, where he grew vegetables and pursued fly fishing.
"Always a gentleman," Michael Bloomberg said. "Ken will be greatly missed."
(Updates with quote from fellow anchor in 12th paragraph.)
Before it's here, it's on the Bloomberg Terminal.
LEARN MORE