How Would President Rand Paul Handle the Media, Anyway?
The Kentucky senator's new theory of how to meet the press.
By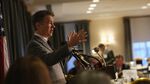 IOWA CITY, Iowa—Kentucky Senator Rand Paul's first week as a presidential candidate has been a paradox; unusually programmed and yet bedeviled by Paul's own words. In his primary state speeches, Paul stands on a podium between two TelePrompter lenses, and sticks to a script. The extent of his ad-libbing happened in New Hampshire, when Paul got to a line about America's "enemies" and an audience member decided to do some trolling.