Design
Want Don Draper's Office From Mad Men? Here's How to Get It
Set decorator Claudette Didul's six tips for a timeless, yet functional workspace
By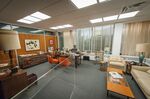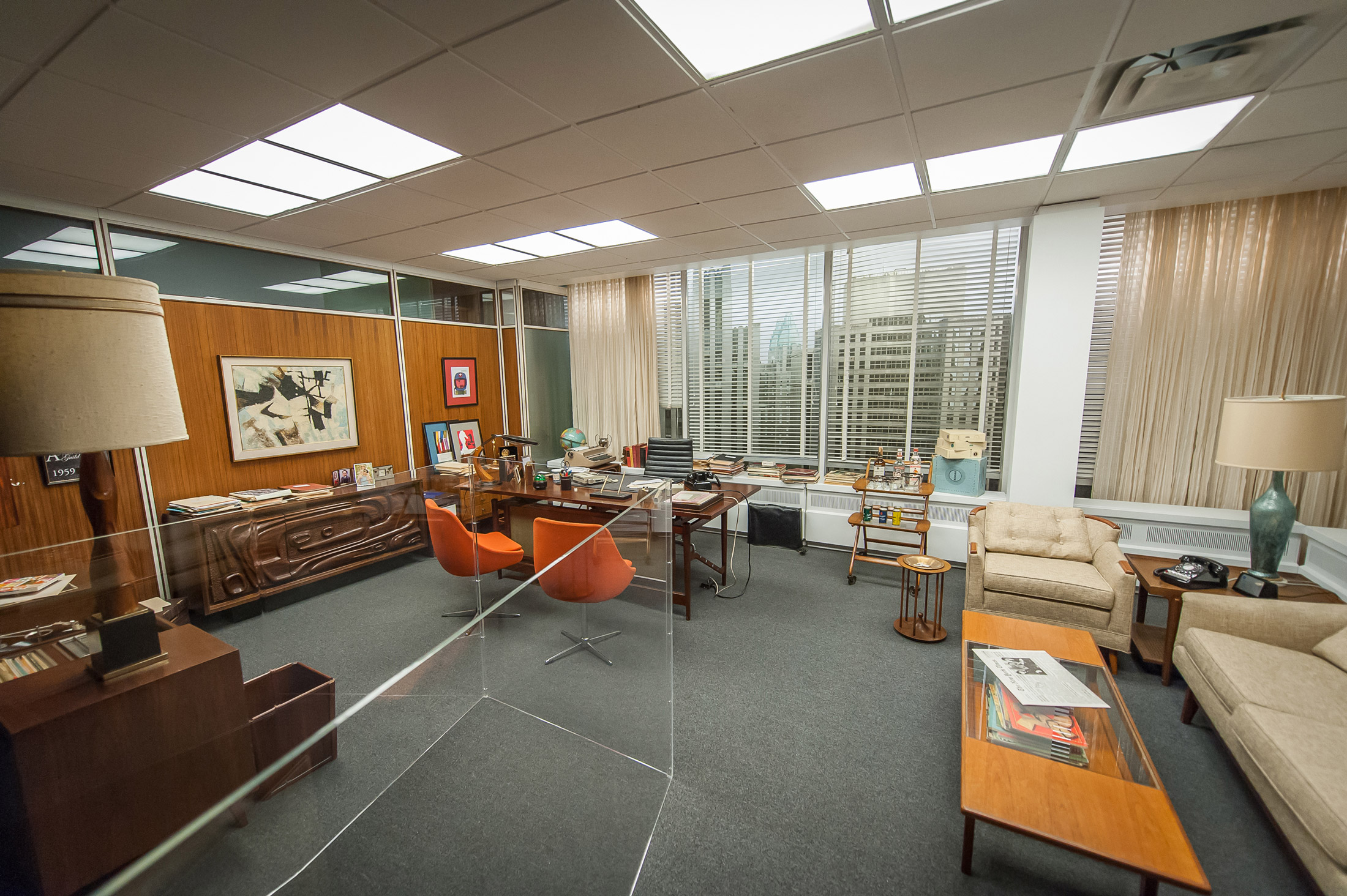 Spoiler alert: In this past Sunday's premiere of Mad Men, Don Draper had his office back after getting booted before the final season's midbreak. Lucky him. (Sorry, Peggy.) We took the chance to reexamine the familiar workspace and talked to set decorator Claudette Didul about how a person in the contemporary world might recreate it. Didul has worked on the show since season four, when Don's now-iconic digs at Sterling Cooper Draper Pryce first made their appearance. (The office is so famous on its own, it's actually the star of an exhibition at the Museum of the Moving Image right now.)
Below, Didul shares with us her secrets of achieving Don's perfectly timeless—and functional—workspace. 

1. Turn Up the Lights
Quick guess what the most expensive thing bought for Don's office? Is it that clean-lined, peek-a-boo coffee table, the abstract paintings on the wall, or the midcentury modern sofa?
Trick question: All those were rented from L.A.'s warehouse of dreams, Omega | Cinema Props. In fact, more than half the items on the set were.

But of the things Didul bought outright, it's the blue pearlized glazed ceramic lamps ("from a lovely man in Chicago") that were the priciest. She considers them a steal at $1,000 for the pair—in Manhattan they would have been four or five times as much.
Lighting is so essential to setting a mood you shouldn't skimp, she reasons.
"It's amazing what you can do with a lamp," says Didul, especially when it helps avoid the sickly florescent glow of commercial drop-ceilings.
Don's Fase desk lamp came from Spain via eBay and makes a showpiece statement.
The more brutalist, chunky carved lamp by the doorway is vintage Laurel, one of the set decorator's favorite brands (very collectible, notable floorsize models can cost upwards of $1,200).
If you want to set some great lighting on your own, you can do so affordably by picking up a simple lamp base from a place such as Ikea and topping it with a custom shade made out of vintage burlap or silk. ("The light is so amazing through the fabric," explains Didul.) And don't discount sconces or pendant lamps—even if you can't run wires through the wall or ceiling. Any good electrician can attach a pluggable base into what would otherwise be a permanent fixture, as long as you can find ways creatively to hide the wire, with paint or wallpaper. City Knickbocker and Filaments are Didul's go-tos for such work in in the New York area.

2. Greenery Matters
Fun fact: Plants can be vintage.
Don't believe us? Click on pictures of a Snake Plant (aka Mother-in-Law's Tongue) and tell us it doesn't remind you of doctor offices of your younger years. Didul said it'd be right at home in the lobby areas of Sterling Cooper's building.
There's not an office that doesn't benefit from the classiness of some foliage, as long as it's chosen appropriately. Cacti and succulents work in more modern offices. (Bamboo just screams '90s.) Didul suggests bringing in some Spider Plants, potted Rubber Trees, and Fiddle Leaf Figs as other throwbacks to the Mad Men era.

3. Color Counts Most
"Colors change the times," says Didul, which on the show means burnt orange, avocados, golds, browns, and earth tones as the years approach the '70s. Highly visible Herman Miller Time Life chairs ($3,319) notably changed from off-white to caramel, too. So if you want your office to have a more classic, decade-spanning look, keep it to neutrals and greys. If you really want to cement it into the time period, harness the appropriate hues. (Who doesn't think of neon as the '80s?) It's one of the easiest ways to set a vibe.
Take it an extra step with colored patterns.
To set a midcentury vibe without full-on redecoration, Didul suggests buying a roll of the colorful, geometrically patterned wallpaper by Alexander Girard when he was at Herman Miller. "If you can't put it up in your office, you could frame it and hang it like a picture," not unlike a pieces of abstract art. Didul also suggests finding yards of vintage fabrics, by, say, Girard or Marimekko (a favorite from her childhood), to cover pillows or seat cushions. That accent pop of color may be all you need.

4. Start Small
You've heard that old chestnut: Accessories make the man. The same can be said for your office. If anything, it's the obsessive period detail that made the show such a hit (and OK, the psychodrama and character development, or whatever).

Didul gets effusive about the small stuff when it comes to recreating the Mad Men era: staplers and tape dispensers with sexy vintage curves in turquoise and olive green; fountain pens, pencil sharpeners, and tin pencil holders; boxes with enamel art on them (both Peggy and Stan Rizzo have some, his emblazoned with a pinup girl). If you're shopping in antique shops, sellers call vintage ashtrays "nut bowls"—they are glamorous, and you can repurpose them for just about anything, such as collecting paperclips or wrapped candies. (If you choose the later, try going full throwback with mints and butterscotch.)
In Don's office, larger items, like that vintage IBM Selectric typewriter, would be, well, just props in the modern day. So Didul suggests keeping your workspace functional with something like a desk pad ("Even that can make everything feel older"). If you want a rotary phone, it's possible to find one at OldPhoneWorks that plugs into a modern jack ($100-$200). His RCA stereo actually works—and you can get one for $250. 
And even though you likely don't drink on the job (no judgment), it can be a glamorous touch to have a bar cart. Fill it with top-shelf liquor and glassware by Dorothy Thorpe. (Don prefers her silver-rimmed rocks glasses). AMC just gave Don's Italian-made, glass-topped one—designer unknown, price withheld—to the Smithsonian's Museum of American History in a ceremony on March 27. 
Didul's favorite spot for sourcing all this stuff? Vintage Etsy. "Just put 'midcentury' or Mad Men into the search box," she advises. 

5. Keep It Functional
In this day of open-plan settings, you're lucky even to have an office, let alone a spacious one—so don't junk it up. Much as Didul had to work from plans laid out by showrunner Matt Weiner and the episode directors, who needed furniture in specific spots to shoot, so do you likely have to work with a floor plan handed down from someone else. Incorporating larger statement items, such as Don's 7-foot desk or that sculptural brutalist sideboard, might require a tradeoff in other areas, like using smaller chairs for guests (Don's are orange dinette chairs from Amsterdam Modern in L.A.).
If you don't have wiggle room from "essential" corporate-issue furniture, something as simple as that brass standing ashtray ($35, bought for Don on a whim) or a coat tree can add vintage flair. As Didul points out, "You don't see those anymore."
For quality antiques, Didul recommends trolling Craigslist (for serious), bookmarking 1stdibs.com, and keeping a lookout for auctions at corporations and universities, where you can often get incredible deals (Didul once got a Noguchi table for $10 and a Knoll setee for $35) if you can fight off the professional pickers. In L.A., the Los Angeles Modern Auctions (LAMA) are a must for true quality. And dingy couches can be made usable with some new batting and new vintage-style upholstery (think gold orange or pretty Knoll blue; expect to pay $3,000+).

Designers to keep an eye out for: Florence Knoll, Eero Saarenin, Finn Juhl, Kofod-Larsen, Paul Evans, Brno Matthson, Harvey Probber, and George Nelson. Vintage anything by Herman Miller, Broyhill, Drexel, Henredon, and Martinville is also a good bet.
Don's chair, by the way, is an Eames Aluminum Group Management Chair in black leather and can be bought new ($2,039).
6. Give It Time
A final word of advice: Despite loving the "airiness" and "lightness" of Danish modern furniture, Didul is the first to admit even the "timeless" Mad Men aesthetic is a fad you might grow out of.
"Don't rush into it. Take your time," she advises. "It's OK to slowly build something, to live in the design before investing thousands of dollars that you may regret in a few years." In other words, whatever's hot now may be passé in a few years or just annoying to use day in and day out. There's a reason all these offices and universities have been auctioning off their furniture, after all.
The final season of Mad Men runs Sundays at 10 p.m. EST on AMC. Experience more sets, costumes, and an encyclopedic dive into the show's creative process with "Matthew Weiner's Mad Men," an exhibition of the Museum of the Moving Image, on view in New York City through June 14.
Before it's here, it's on the Bloomberg Terminal.
LEARN MORE