This Man's Job Is to Keep Wharton Students Happy, Whatever It Takes
Elite B-schools are trying to win a place in students' hearts
By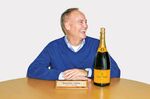 Kembrel Jones, dean of student life at the University of Pennsylvania's Wharton School, can describe students' hardships in two words: Champagne problems. "At Wharton, when you get up in the morning and you think you're going to have a bad day, think about why," says Jones, sitting in an office filled with gifts from graduates. There is a framed illustration of Jones's face that a student created by compiling hundreds of tiny photos of members of the class of 2013; a plaque inscribed with a quote from Jones given to him by students graduating this year; and in the center of the room, a one-and-a-half-liter bottle of Veuve Clicquot, a birthday present from the class of 2014. "Oh, you have an exam? Champagne problems," Kembrel says, pointing to the bottle. "Oh you've got five different interviews today with five different consulting firms? Champagne problems."
That's one of the many lessons Jones imparts to the almost 1,700 students at Wharton. Hired in 2008 to fill the newly created position of dean of students, the Alabama native says he was brought in to lighten things up at the historically serious school. The 55-year-old was recruited to join Wharton from Emory University's Goizueta Business School, where he was an associate dean in charge of student life. Jones's obsessive focus on students reflects a broader goal among elite graduate business schools to cultivate a place in the hearts—and wallets—of their MBAs, so they'll donate money after they graduate. "To be blunt, they'll write a check, they'll write a big check, if they had a good experience here," Jones says.

Most elite business schools don't have a Jones on staff, but they still devote administrative resources to cultivating loyalty among MBAs. One way they do so is by imitating the close-knit feel of an undergraduate college—a strategy that helps set traditional programs apart from an expanding number of online MBA offerings. At the Yale School of Management, Dean Ted Snyder invites students to his home for meals, where they sometimes meet the alumni relations dean, Joel Getz. "We have in recent years tried to focus more on students when they are here," says Getz. The school recruits a group of students to ask classmates to promise annual gifts to the school about a month before graduation. The group has helped raise $1.3 million in pledged donations from 770 students since 2012.
Madhav Rajan, the senior associate dean at Stanford's Graduate School of Business, says part of his job is to give students what they want from the school. In his five years as dean, Stanford has cut down on required courses, added several classes on startups, and beefed up faculty to keep class size down, all changes requested by students. In exchange, Rajan isn't shy about telling students that "we expect them to reciprocate," he says. The Stanford business school logged $14.7 million in alumni donations to its business school fund in the fiscal year ended Aug. 31, 2014.
No U.S. business school has been quite as relentless about catering to students as Wharton. Jones has control over nearly all the university's interactions with students outside the classroom. He was appalled when he noticed that no one was wearing any Wharton-branded gear on campus. "Wharton didn't give the students any swag that said 'Wharton' on it. So it made it look like, well, maybe it's not cool to go to Wharton," he says. In his second year on the job he made sure incoming students got umbrellas, T-shirts, and water bottles emblazoned with the school logo.
Jones also created a student committee to run welcome weekends for MBA applicants who've been admitted and are visiting campus before making their final decision. The goal is to improve the program's yield, the share of those admitted who enroll, which has become an increasingly important measure of a school's prestige. Wharton's yield from welcome weekends has climbed to 90 percent in recent years, Jones says, up from around 65 percent in 2010. Getting chosen for the welcome committee is a coveted distinction—250 students applied for the 40 slots in 2014.
Jones in 2009 began hosting soirees for first-years after they'd sat for exams, with beer, wine, and of course, Champagne. Last year he persuaded the school to lease a building in Philadelphia's Center City, where many Wharton students live, to serve as a lounge, work space, and conference hall exclusively for Wharton students.
In 2011, Jones hired six staffers to help run a new system of so-called clusters, student groups of 200 modeled on Princeton University's eating clubs, the Ivy League school's version of fraternities. He says he's "mesmerized by Princeton," which has the highest per capita endowment of any U.S. college, and says he pores over the university's marketing materials for inspiration. At Wharton, MBA candidates also meet with advisers regularly with the aim, Jones says, of making sure "students understand that Wharton cares."
Total alumni giving has risen steadily since 2008, and after the school put Jones's face on an e-mail in late 2013 asking for donations, contributions to the annual giving fund increased to $12.6 million from $8.8 million the year before. Jones is interested in that upward trajectory, but it's not what drives him, he says. He's fervent about his students—he lives near them in Center City and has given his personal cell phone number to 5,000 members of Wharton classes.
Being students' biggest fan is a job Jones has been preparing for since he was 6 years old. Left out of football games by his more athletic brothers, he realized he could help by encouraging his siblings when they did well and buoying them when they made a mistake. He says he would have been a high school cheerleader if they'd allowed boys to do that in Alabama. "That's my job at Wharton," he says. "I want to thank every one of those boys who are still in my hometown, because without them, I wouldn't be the highest-paid cheerleader in America."
The bottom line: Donations from Wharton School alumni have increased since the school began focusing on student life.
Before it's here, it's on the Bloomberg Terminal.
LEARN MORE