Richie Benaud, Former Cricketer and Commentator, Dies at 84
James Cone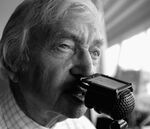 Richie Benaud, the former captain of Australia's national cricket team who became the sport's best-known television commentator, has died. He was 84.
Benaud died in his sleep, Nine Network Australia Pty, for whom the commentator had worked since 1977, said on its website. His family has been offered a state funeral, Prime Minister Tony Abbott said Friday.
"Our nation has lost an icon," Abbott told reporters in Queensland state. "This is a sad day for everyone who loves cricket."
An attacking batsman and leg-break bowler, Benaud took 248 wickets in 63 Tests and scored three centuries in 2,201-runs. He became Australia captain in 1958, masterminded two Ashes triumphs and never lost a Test series. In 1963 he became the first cricketer from his country to score 2,000 Test runs and take 200 wickets.
"Richie is a true legend not only to all the people who knew him, but to the many millions who didn't," Nine Network Chief Executive Officer David Gyngell said in a statement. "He's been part of the Australian psyche."
Benaud retired in 1964 to take up a career in journalism, where his chatty style and enthusiasm for the game made him popular in England and Australia. "Morning everyone", "don't bother looking for that let alone chasing that" and "it's gone into the confectionery stall and out again," were among the phrases that made Benaud a household name. In all, he played or commentated on around 500 Test matches. His brother, John, also represented his country on the cricket pitch.
Unparalleled Enthusiasm
"His enthusiasm for the game and for his work was unparalleled," Benaud's former Channel 4 colleague Mark Nicholas, an ex-Hampshire county cricket captain, said in an interview. "He knew his subject inside out and had a sense of timing and a wit that few people can match."
Richard Benaud was born in Penrith, west of Sydney, on Oct. 6, 1930. The great-grandson of a French sea captain who came to Australia in 1840, he became fascinated by cricket listening to radio broadcasts of Australian batting legend Donald Bradman dominating the world's bowlers in the 1930s.
Test Debut
Taught to play the game by his father, Lou, who competed in Sydney club cricket, Benaud would reenact Test matches on the verandah of his family home in Jugiong.
After emerging as a talented player at school, Benaud played first-class cricket for New South Wales in 1948 at age 18. A Test debut followed three years later in the final match of the 1952 series against West Indies.
He was appointed Australia captain for the Ashes series in 1958 and regained the trophy, which had been in English hands for six years with a 4-0 series victory. Three years later, the Ashes were retained in a 2-1 win on English soil.
In the latter years of his cricket career, Benaud also worked as a newspaper crime reporter in England before moving into cricket journalism and commentary after his retirement.
He divided his time between England, where he worked for the British Broadcasting Corp. for many years, prior to joining the U.K.'s Channel 4, and Australia for Channel 9. He was a columnist on the News of The World tabloid in Britain for 40 years. He often commuted from a home in the south of France during English summers.
Lifetime Achievement
In 2004, he received a lifetime achievement award from Britain's Royal Television Society for becoming the first person to watch 500 Test matches as a player or commentator.
"Cool but communicative, he impressed as one to whom no event was unexpected, no contingency unplanned for," cricket biographer Gideon Haigh wrote of Benaud. "The same has applied to his journalism: terse, direct and commonsensical, and his broadcasting: mellow and authoritative."
Benaud's voice, appearance, and preference for sporting cream suits prompted Australian satirist Billy Birmingham to parody him in a series of so-called 12th Man comedy albums, which have been best-sellers in Australia.
In 2004, Benaud starred in a series of television advertisements for the Australian Tourism Commission. The commercial showed him in a range of scenic locations saying his cricketing catchphrase, "Marvelous."
Despite having announced his retirement from the commentary box in 2009, he signed a three-year deal later that year with Australia's Nine Network to join its cricket coverage.
In 2013 the veteran commentator was injured after his vintage 1963 Sunbeam Alpine car collided with a brick wall. He suffered chest and shoulder injuries and a broken sternum following the incident in the Sydney suburb of Coogee. "I was more worried about the car than myself," he told reporters.
Benaud, who was honored with the title Officer of the Order of the British Empire in 1961 for his services to cricket, published his autobiography, Over But Not Out, in 2010. A year earlier he was inducted into the ICC Cricket Hall of Fame.
"There would be very few Australians who have not passed a summer in the company of Richie Benaud," Abbott said. "His voice was even more present than the chirping of the cicadas in our suburbs and towns. That voice, tragically, is now still."
Before it's here, it's on the Bloomberg Terminal.
LEARN MORE