Brooklyn Home Prices Jump 18% to Record as Buyers Compete
Oshrat Carmiel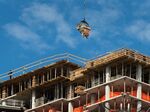 Home prices in Brooklyn jumped to a record in the first quarter as buyers clamoring to own real estate in New York's most populous borough competed for the limited supply of listings on the market.
Condominiums, co-ops and one- to three-family homes sold for a median of $610,894 in the period, up 18 percent from a year earlier and the highest in 12 years of data-keeping, according to a report Thursday by appraiser Miller Samuel Inc. and brokerage Douglas Elliman Real Estate. The median price has reached a record six times in the past eight quarters.
Developers capitalizing on the borough's growing cachet have focused on building rentals, drawing in new residents but leaving a void for those who wish to eventually put down roots and become homeowners. The 4,331 homes listed for sale in Brooklyn at the end of March was the second-lowest total for a first quarter in records dating to 2009, according to the firms.
"We're not creating new housing stock that addresses the largest portion of housing demand," Jonathan Miller, president of Miller Samuel and a Bloomberg View contributor, said in an interview. "We're seeing expanded emphasis on the upper end of the market through new development, but also pressure in the resale market as people are being priced out of Manhattan."
The inventory shortage depressed the number of purchases in the quarter. Sales fell 4.1 percent from a year earlier to 1,507, according to the report.
New Developments
New condo developments -- high-rise towers offering amenities such as children's playrooms and rooftop gardens -- helped fuel price gains, even as they accounted for only 10.6 percent of sales in the first quarter, Miller said.
Deals for newly built properties closed for a median of $829,500, up 24 percent from a year earlier. The median for resale condos climbed 11 percent to $670,931, Miller said.
Ryan Fisher and his wife started searching for a place to buy when the changes sweeping Brooklyn landed at their Greenpoint doorstep. The building where they had leased a $2,000-a-month studio for almost five years had been sold to a developer, and the couple, faced with a looming deadline to move out, realized they wouldn't find a comparably priced rental in their neighborhood today.
"If we wanted to keep our rent the same as it had been the past few years, we'd be living in a dump" under the Brooklyn-Queens Expressway, said Fisher, 32, a financial executive at menswear company Gant.
Bidding War
After attending an open house, they bid on a 615-square-foot (57-square-meter) two-bedroom condo on Greenpoint's Kingsland Avenue that was listed for $628,000. They found themselves in a bidding war for the second-floor walk-up that lasted three rounds.
A personal letter to the owners helped seal the deal for the Fishers, who agreed to pay $650,000 -- almost 70 percent more than the sellers paid three years ago. The transaction closed last week.
More than half of the people who were interested in the property were renters living nearby in Brooklyn who were seeking to buy their first home, said Scott Klein, the Douglas Elliman broker representing the sellers.
"It's become an extraordinarily desirable place to live," Klein said of Greenpoint. "The amenities have increased substantially in terms of places to go out, restaurants and bars. There's also a big inventory problem because almost all of the new construction is luxury rentals."
'Unbelievable Demand'
In Greenpoint and Williamsburg, the median price of all residential properties purchased in the first quarter climbed 13 percent from a year earlier to $956,000, according to a separate report Thursday by brokerage Corcoran Group. Resale condos accounted for most of the sales in those neighborhoods.
Homes sold for a median of $700,000 in Fort Greene, Clinton Hill and Prospect Heights -- an 18 percent jump. In the area that includes the rapidly gentrifying neighborhoods of Bedford-Stuyvesant, Crown Heights and Bushwick, the median price rose 17 percent from a year earlier to $510,000, the brokerage said.
"There's just an unbelievable demand, and it's happening in just about every neighborhood," said Frank Percesepe, a senior vice president at Corcoran Group who oversees Brooklyn sales. "Last year, we didn't have much inventory at all so people got discouraged. Now, the inventory that's out there, they're fighting for it."
Before it's here, it's on the Bloomberg Terminal.
LEARN MORE