politics
White House Trolls Netanyahu on Iran with Bomb Graphic
A familiar image showed up in a tweet sent out by the Obama administration Wednesday.
By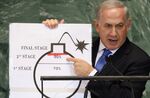 Turnabout is fair play. 
The White House has employed a graphic first used by Benjamin Netanyahu to push its case for a nuclear deal with Iran that the Israeli Prime Minister opposes. On Wednesday, the president's office posted a tweet that borrowed the graphic representation of a bomb that Netanyahu had held up during a speech to the United Nation's General Assembly in which he warned of Iran's growing nuclear capability. 
The fuse on the original image was intact, and there was no sign of the metaphorical scissors or accompanying text that the White House saw fit to add.  

The Obama administration is at odds with Netanyahu over the framework for a nuclear deal reached last week with Iran. 
"The alternative to this bad agreement is not war but a good agreement, which can be achieved. But to do this, we have to stand firm and insist on the terms that will secure the safety of Israel, the region, and the world," Netanyahu said in a statement over the Passover holiday.
The White House contends that this is the best chance at stopping Iran from acquiring a nuclear weapon. 
"What I would say to the Israeli people is ... that there is no formula, there is no option, to prevent Iran from getting a nuclear weapon that will be more effective than the diplomatic initiative and framework that we put forward," Obama told the New York Times' Thomas Friedman over the weekend. "And that's demonstrable." 
Before it's here, it's on the Bloomberg Terminal.
LEARN MORE