What Does Rand Paul's Presidential Campaign Mean For A Nervous Fed?
The Kentucky senator's presidential bid poses the clearest populist threat to the central bank in generations.
By and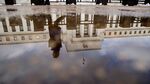 MANCHESTER, N.H.—Nearly six years ago, flanked by members of the Campaign for Liberty started after his father's presidential campaign, a longshot Kentucky candidate for Senate leaned into a bullhorn and called for the Federal Reserve to be scrapped.