Scene Last Night: Bisignano, Cuomo, Weill, Nuttall for Plumeri
Amanda Gordon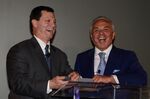 With their former bosses Sandy Weill and Jim Robinson standing in front of the stage at the Rainbow Room Tuesday night, Joe Plumeri, vice chairman of First Data, thanked Frank Bisignano, First Data's chairman and chief executive, for throwing him an "immodest" party in honor of his book "The Power of Being Yourself," out next week.
It was definitely a big event, with 500 guests passing through including New York Governor Andrew Cuomo, Scott Nuttall, head of global capital at KKR & Co., Dick Cashin, president of One Equity Partners, Related Cos. Chairman Stephen Ross, John Rosenwald, Michael Minikes, Georgette Mosbacher and Lidia Bastianich. Missing were Jeb Bush and Henry Kravis, who gave blurbs for the book jacket.
"He is a Republican, I am a Democrat, but he is a pro-New York, practical, optimistic, generous man," Cuomo said, "and that is the great uniter. We need more of that."
Plumeri is known as a motivator, capable of talking and holding attention for hours at a time. In his book he recounts giving speech-making advice to Mitt Romney (Bush hasn't asked him for advice yet, he said.)
On the Rainbow Room stage, Plumeri, 71, went over themes like "Make Your Heart Your Teleprompter" and "Play in Traffic" (essentially, get off e-mail and go out in the world). He said the book isn't about business or leadership but a personal guide: "I just think the world needs to readjust itself and get in touch with its feelings."
Italian Ballplayers
Plumeri and Bisignano met more than 30 years ago working at Shearson Lehman Brothers. They played on a softball team Plumeri set up pitting "the Italians at the firm against everybody else; the Italians always won," Plumeri said.
On stage at the party, Bisignano said guests would be served chocolate-covered pretzels courtesy of his daughter Alexa Bisignano, owner of Pretzables. Plumeri presented Bisignano with a small box tied with a ribbon.
"Is Cindy Armine here? She's head of compliance," Bisignano said.
"It's under $25," Plumeri replied as Bisignano opened the gift and held out its contents -- cuff links -- for guests to see.
"It's a bull and a bear," Plumeri said. "It's symbolic of what we've accomplished. I couldn't get two bulls."
Was this a sign that First Data is going public? "Eventually, in our future, that will probably be the case," Plumeri said over the phone after the party. "It doesn't mean anything in the near future."
KKR Turnaround
Bisignano is working on a turnaround at First Data, owned by KKR, in part with new products like Clover and Clover Mobile, point-of-sale systems that were on display at the party. Guest Kimberly Silvagnoli-Cancel, owner of Kim's Fashion Corner in Bensonhurst, Brooklyn, said she uses Clover as her register and to keep inventory.
In his book, Plumeri discusses his turnarounds under Weill and Kravis, who tapped him to lead KKR-owned insurer Willis Group.
"He's been good at everything he's done, like in a big, big way," Weill said. "He helped straighten out the retail bank of Citi, he made Primerica Financial Services a company that played by the rules and did incredibly well, and had no problem with regulators for the past 25 years. And look what he did with Willis, terrific!"
"At the core of any business is you have to have a purpose, whether you're in banking or insurance," Plumeri said on the phone. "The purpose has always gotta be genuine concern for the people you serve. As long as there's genuine concern, then I think irrespective of regulation and changes in business, you're always going to do the right thing. That's what we lost. What happened in 2008 and in the early 2000s, we forgot that we serve people in these financial businesses; what they were serving were their own balance sheet.
''Now, it's a little bit better, but when you talk about getting back to your core businesses, there's a long way to go."
Before it's here, it's on the Bloomberg Terminal.
LEARN MORE