Rand Paul's Hawkish Foes Haunt Him in New Hampshire
The senator isn't interested in re-arguing the Iran debate.
By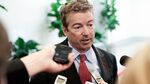 MILFORD, N.H.—Alice Bury was eating breakfast when she heard the pounding music and ominous narration that had already become as familiar as a Beatles song. "The Senate is considering tough new sanctions on Iran," said the anonymous voice of a new and secretive group, the Foundation for a Secure and Prosperous America. "President Obama says he'll veto them. And Rand Paul is standing with him." Cue: Footage of swarthy men burning a flag. This was all over the air the day of Paul's first presidential campaign visit to the Granite state.