Rand Paul's Hawkish Foes Haunt Him in New Hampshire
The senator isn't interested in re-arguing the Iran debate.
By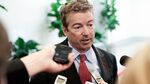 MILFORD, N.H.—Alice Bury was eating breakfast when she heard the pounding music and ominous narration that had already become as familiar as a Beatles song. "The Senate is considering tough new sanctions on Iran," said the anonymous voice of a new and secretive group, the Foundation for a Secure and Prosperous America. "President Obama says he'll veto them. And Rand Paul is standing with him." Cue: Footage of swarthy men burning a flag. This was all over the air the day of Paul's first presidential campaign visit to the Granite state.
"It was about the third time we saw it in a 24-hour period," said Bury, a retired nurse who lives in nearby Amherst, as she craned her neck for a view of the Kentucky senator. "My husband just said, 'enough,' and he got up and turned off the TV. That ad was so vicious that I really question it. "
The Foundation for a Secure and Prosperous America, a member of the ever-growing club of 501(c)(4) groups that can shield donor identity while pouring money into campaigns, was trying to ruin Paul's week. The senator was hitting all four of the first primary and caucus states; as first reported by Bloomberg View's Josh Rogin, the Foundation's ads would appear in every one of them. The obvious goal was to rattle Paul and shape his coverage—or, as the Foundation described its goal, to inform "the public and opinion leaders as to how we can best assure that America remains secure and prosperous."
Paul's pushed back in every available a way. In Milford, Paul's event began with a short speech by Philip Nazzaro, a military veteran running for state senate. The senator's speech repeated, verbatim, the delicately crafted manifesto of his announcement from Louisville.
"I will do whatever it takes to defend America from these haters of mankind," said Paul, to hundreds of cheering voters crammed into the town's old town hall. "We need a national defense robust enough to defend against all attack, moderate enough to deter all enemies, and nimble enough to defend our vital interests. But we also need a foreign policy that protects American interests, encourages stability, and does not create chaos."
Paul bristles when his campaign is compared to any of those waged by his father, former Texas Representative Ron Paul. And the TV ad assault is designed to drive down Paul's high personal approval with Republican voters, something neoconservative opponents of the senator failed to do when he ran for Senate.
Yet it was attacks like these that helped build the elder Paul's grassroots movement. In May 2007, when Ron Paul was a stalwart but obscure insurgent candidate, he got into a debate scrap with former New York Mayor Rudy Giuliani. Paul had suggested that American intervention in the Middle East was a root cause of the 9/11 attacks. "That's really an extraordinary statement, as someone who lived through the attack of 9-11, that we invited the attack because we were attacking Iraq," snapped Giuliani.
Over the next few days, mainstream conservative pundits agreed that Paul had lost the exchange and discredited himself. Anti-war and libertarian voters, who were more numerous than Republicans had realized, disagreed with that and swarmed to Paul. State Senator Andy Sanborn who had endorsed Ron Paul in 2012 and who introduced Rand at the Milford event, suggested that the TV ads would backfire, just as the conservative assault on Ron Paul had backfired.
"Does it help Rand, knowing that the establishment class politicians in D.C. are attacking him? Yes," said Sanborn. "We're all tired of D.C. and we're all tired of the fact that they're not doing anything. We're all tired of the fact that you can't tell the difference between a Republican and a Democrat down there. Rand stands apart from that."
But Rand Paul was taking on the tone and veracity of his critics, not the basic argument about the threat of Iran. He would not litigate the ads. In other forums, he'd challenged the record and wisdom of the Iran hawks; in Manchester, he just wrote them off as trolls.
"I think it's always been a danger, whether or not Iran has a nuclear weapon," Paul said at a press conference after his New Hampshire speech speech. "I do think, though, that over time the risk of them having a nuclear weapon has increased. So for attack ads from opponents that have been graded by PolitiFact as mostly false—these ads are from statements made eight years ago. I think events do change. I think Iran was always a threat, but I think it's increasingly a threat. I don't think my views have changed but I think Iran has become more of a threat over the past eight years."
There, as in several interviews this week, Paul was saying that some remarks he'd made on behalf of his father's campaign were no longer operative. Yet there might be a New Hampshire audience for a realist, less alarmist argument about Iran. A Reuters/Ipsos poll released today found that 31 percent of Republican voters actually favored the framework with Iran as hammered out by the Obama administration. Only 30 percent of Republicans opposed it. The plurality was undecided, and plurality is all any candidate will likely need to win 2016's New Hampshire primary.
In Milford, even some voters who were more hawkish than Paul voiced skepticism of the Iran threat. "I shouldn't say something like 'let's bomb Iran off of the map,'" said Tony Pierce, a Vietnam era Air Force veteran who was not yet committed to Paul. "They're just a little bug in a gigantic pot, and we could take them out before breakfast." 
Pierce vehemently opposed the Iran deal, but he'd been repelled by the TV ad. Like other attendees, he thought a rogue, armed Iran, threatening as it was, could obliterated easily.
"I feel like people blow up terrorism bigger than it is," said Tony Zore, a 28-year old consultant who was carrying a Gadsden flag that Ron Paul had signed years earlier. "I think it's something we need to address, and I don't think we should give up the sanctions. That's what I like about Rand—he hasn't been for war all the time, and he hasn't been against war all the time."
When Paul's speech ended, Zore located the room where the press was gathering to grill the candidate. He handed Paul the Gadsden flag. The senator signed it, and smiled for photos. Then he insisted that the attempts to portray him as weak on Iran were bad faith lies, just what you'd expect from an establishment that feared change.
"What I would say to the people who want to criticize me is that they have to tell the truth," said Paul. "I don't believe those who have started so far are very much into truth telling."