Jeb Bush Offers President Obama a Small Measure of Praise on Iran
The former Florida governor said the president was "right in the beginning" of his negotiations with Tehran.
By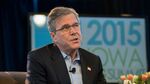 Do not attempt to adjust your computer monitor. 
Former Florida Governor Jeb Bush in Denver Tuesday said President Barack Obama improved on an effort started by his brother President George W. Bush to tighten sanctions on Iran for developing nuclear arms.
"The president, to his credit, was successful in bringing other people along and making it tougher,'' he said in response to a question from an audience member on how he would handle the Iranian nuclear issue. "I'm not a big Obama fan, but when he does something right we need to give him credit.''
Speaking to a friendly audience of about 100 energy industry employees in the historic Brown Palace Hotel, Bush added that Obama pulled back from sanctions too early.
"The president was right in the beginning he was going to negotiate with the Iranian regime to establish the goal," Bush said, "and it should have been a nonnegotiable goal, of never allowing Iran to have a nuclear bomb." 
Bush, who spoke to veterans in Colorado Springs at a breakfast at a local International House of Pancakes earlier in the day, emphasized during a 30-minute question-and-answer session interspersed with audience applause that the U.S. should strive for energy independence by lifting a ban on crude oil exports and approving the construction of the Keystone XL pipeline.
"There are places in the world that are totally dependent on despots providing them with energy,'' he said. "Our energy success can create a national security advantage for us and the rest of the world.''
The potential 2016 presidential candidate emphasized that hydraulic fracturing, or fracking, with its high-paying jobs and use of American equipment, could push the nation's economic growth. He said that the industry should "get out the facts to lessen peoples' fears'' and to promote the economic benefits of fracking.
He criticized the Obama administration's energy strategy that seeks to lessen the use of coal.
"For some odd reason, this president has a problem with the oil and gas sector,'' Bush said. "You can't stop innovation, by the way, you can stall it, you can make it more complicated.''